Special Occasion Dresses
From now to December the social calendar is awash with black tie events, and many of our first time customers come to us having just received a black tie invitation and are in a panic as to what to wear.  The black tie dress code has been modernized over time, but one thing has stayed the same:  black tie events are gorgeously sumptuous, important social events!  So, before you dip into your wardrobe, just make sure that you are aware that black tie means formal event and you will be expected to dress appropriately.  However, don't feel daunted by this concept; instead, see it as your big opportunity to show yourself off in a stunning gown and some statement pieces of jewellery.
Compared to men, women have to go through a much more complicated process when choosing their black tie outfits, but the staff at Walk in Wardrobe are here to help.  Outlined below are a few tips and tricks to help you shine at your black tie event.
Can I wear a cocktail dress to a black tie event?
Black tie events usually mean that you will need to wear a full length gown, but as time has gone on, there has been some relaxation to this rule and some women prefer to opt for a knee length dress.  However, caution must be exercised if you decide to go for a short black tie dress as cocktail dresses can be considered semiformal and you may feel underdressed in a short dress.  If you do go for a short dress, make sure it's as glitzy and glamorous as possible, and do not go for a minidress.  Do remember though that it's not every day you get to wear a floor length gown – so if I were you, I would take full advantage!
Do I have to dress conservatively for a black tie event?
Do not limit yourself to a conservative dress, try to keep modern and sexy whilst maintaining a touch of class.  A plunging neckline or a backless dress can definitely be styles which are appropriate, but try to steer clear of anything too revealing, e.g. a backless dress with a plunging neckline and a thigh high slit, remember, it's all about looking classy!
What colour dress can I wear to a black tie event?
There are no limitations for colour when it comes to choosing your black tie dress, so you can be pretty daring when it comes to the colour you pick, so be confident and play with colour, bold colours can be really attention grabbing!
What accessories should I wear to a black tie event?
At black tie events you can really show off your jewellery, but it's really important not to go overboard and to accessorise well.  Choose a necklace and a pair of earrings which go with the outfit or a complimentary colour.  If you are unable to find a good match, go for a nice neutral colour for your jewellery, for example, clear sparkles or silver or gold jewellery.  Choose a clutch bag which matches any embellishments your dress may have or matches your jewellery, but try to stay away from an exact match to the dress as it can blend in too much with your outfit.  A stole to go around your shoulders works fantastically for a winter event, giving you that touch of Hollywood glamour whilst keeping you warm.
Our team at Walk in Wardrobe are very well versed in what to wear for a black tie event, if you have any other questions just leave it in the comments box below!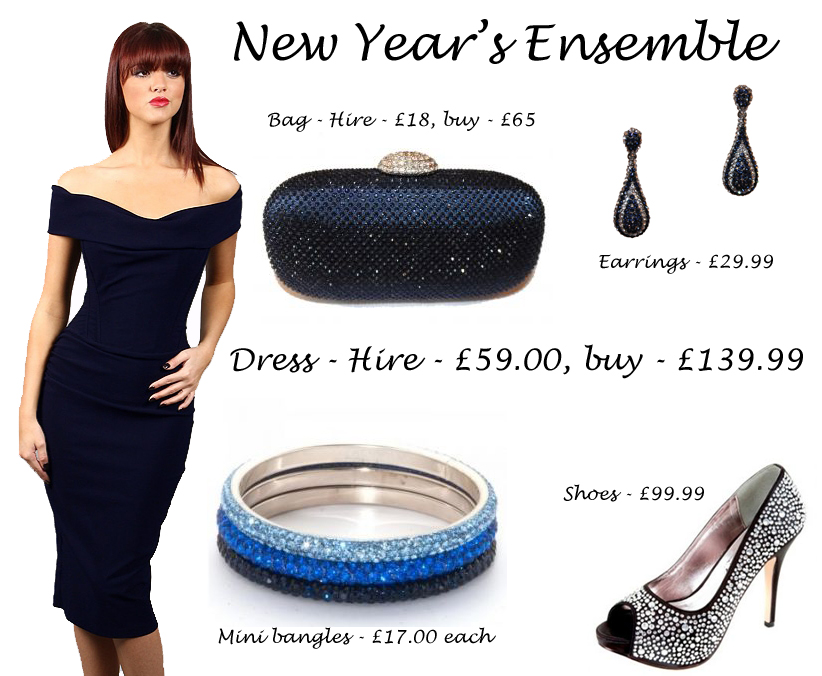 The boutique has been positively bursting at the seams with customers who are busily organising themselves for their Christmas and New Year's Eve parties, and we've had great fun helping them choose their accessories and dresses for their events.  This blissful little collection is perfect for a New Year's Eve party and will have you looking classy and sophisticated as you twinkle and dance your way into 2014!
Pink is a hot fashion trend for the summer, and don't worry, it doesn't mean you have to look like a Barbie doll!  Pink is one of those colours which is extremely varied, including shades of baby pink, dusky pink and hot pink.  With all the different shades and hues, it would be impossible not to find a shade that works for you!  Pink dresses are: fresh, summery, pretty, soft and feminine and are perfect for a wide variety of events such as parties, prom, black tie events, bridesmaids and mother of the bride.
Long pink dresses have been in real demand for prom this year.  This is particularly understandable because of their girly, fresh, summery shades.  However, don't feel that pink dresses are only appropriate for young ladies going to prom.  Pastel pinks can give a whimsical and feminine look for a black tie event and a hot pink can give a daringly stylish look.
Light pink long dress pictured right:  this pale pink dress is a timeless classic with a gorgeous, bead embellished low back.  A subtle front slit gives you that touch of sexiness whilst still remaining classy and elegant!
Fuchsia pink dress pictured to the left:  This fully beaded cerise pink dress has a true touch of the 1920's Great Gatsby style about it and gives a look of bold femininity, a guaranteed head turner!
Dusty pink chiffon and leopard print dress pictured far left: this dress is gorgeously whimsical, modern and floaty, a perfect blend of feminine colours with a bit or 'roar' from the animal print!  This dress has gorgeous, sparkly beading on the waist and on the shoulder.
We also have a few show stopping (and very cheap!) big pink ball gowns with stunning embellishments.  This style is particularly suitable for proms.  If you would rather have a more subtle prom dress but nevertheless want all the 'wow' of a classic ballgown, you could go for one of our pink fishtail gowns, which will give you that much sought after hourglass figure.
I really love short pink dresses as they are flirty and feminine, with the added bonus of giving you the opportunity to show off a pair of fabulous shoes!
This gorgeous little feather dress pictured right also has a touch of the 1920's style and would be fantastic for a burlesque style night, but it would also make a gorgeous party dress.  This stunning mini dress has a heavily beaded bodice, an ultra fun mini feather skirt and also has that much sought after corset back for a great fit.
This gorgeous light pink pencil dress pictured left is perfect for ladies day or mother of the bride.  This dress and jacket set is a gorgeous soft baby pink with gorgeous black embellishments for a very modern look.  This dress would look perfect with black accessories!
This season is all about the feminine, and what better colour to do it in than pink?
For us ladies, idealistic fashion can be a difficult thing to obtain, especially if you have to work within your monthly budget.  Unfortunately we ladies can be left in the position where we have spent lots of money on a designer dress, but we don't want to be seen in the same dress twice.  This happens especially if you are lucky enough to have a close circle of friends with whom you go to the same events with.  If this sounds like you, then I'm sure you are no stranger to the sad feeling when you open the wardrobe to see an expensive dress hanging there which you will probably never wear again.  As this is an issue which affects many women, there has been an increasing trend of renting dresses for black tie events, weddings and proms, and we are proud to be one of the first companies on the South Coast to offer a professional hiring service.  Here are just some of the benefits of hiring a dress:
Fashion is ever changing
The world of fashion has always been a bit fickle.  What is in vogue one day may not be a week later.  As we strive to stay on the 'what's in fashion' pulse, so our rental dresses are always in style, so you can feel rest assured that you are always stylish and that you are not letting thousands of pounds go to waste from purchasing dresses!  Going on from this, as fashion is so fast and styles can fall out of fashion favour, the more you wear a dress, the more the value of the garment could deplete, rendering the thousands of pounds you spend on dresses worthless.
No problem with storage
Not everyone has a special occasion to go to on a regular basis and so, if you are buying many dresses for different events, you will be surprised at how cluttered your wardrobe can get!  Gone are the days when wedding dresses are handed down from mother to daughter, daughters now tend to prefer to choose their own dress, and if you opt for a flamboyant, large wedding dress, it is unlikely that you will wear it again, so storing the dress can become a problem.
The designer look for a fraction of the cost
For formal events or Ladies Day, you really don't want to sacrifice quality and purchase on the high street.  Due to the fact that designer dresses have a superior quality to high street dresses, the price naturally goes up, so it can get quite expensive!  We offer fabulous designer dresses which are from top quality brands such as Catwalk Collection, Forever Unique, Dynasty and Hybrid, but to name a few.  We also hire out the majority of our wedding dresses.  Renting your wedding dress will be far cheaper than purchasing it, which means that you utilise the extra cash for that extra special honeymoon!
You can try before you buy
At our boutique we also sell our dresses as well as hire them out.  If you have hired a dress from us and fall in love with it on the night (this situation seems to occur on many occasions!), you can buy the dress after your rental and we will take the rental fee off of the purchase fee.
You don't have to worry about the cleaning
Cleaning delicate dresses can be a bit of a chore, but if you hire a dress from us, the cleaning costs are included in the hire price, so that's another thing off your mind!
Hire a dress from anywhere in the UK
We do not limit our customers by location and offer an online hiring service.  Please visit our website for more information about how to hire a dress from us here.
We usually have a 50/50 split when it comes to prom girls going for long or short prom dresses, but this year we have noticed that the majority are going for long gowns.  Long prom dresses are undeniably gorgeous and stunning, but don't underestimate the short prom dress – they can still make you look like a knockout on your special night!  Don't restrict yourself by thinking that long dresses are formal and that short are casual.  Providing the dress is glamorous enough, and you feel happy and confident, a short dress would be perfect for your prom.  Here are some of the reasons why I love short prom dresses:
Short prom dresses are versatile
Short prom dresses have the added benefit of being very versatile, you can dress them up for formal occasions such as prom, or you can dress them down for a more relaxed occasion such as a birthday party.  With all the different events you will be able to wear your short prom dress to, you really would get value for money! 
Short prom dresses are great for dancing in
Another great thing about short prom dresses is that you can dance the night away without the worry of getting your shoes caught in the hem of your dress.  You also don't have to worry about holding the front of the dress up when you walk.
You can show off your prom shoes with a short dress
Less dress means more chance to show off your fabulous prom shoes.  We recommend wearing wedges with long dresses to prevent the hem from getting torn, but with your short dress you  have no restrictions!  You can go for wedges, stilettos, or even little sparkly ballerina style pumps.
This blog post is not intended to deter girls from getting a long prom dress, all I'm saying is that prom girls should keep an open mind and should not restrict their choices.  The key to choosing the right prom dress is that you love what you are wearing and you love the way the dress makes you feel when you are wearing it.  You will have great memories of your prom, and you will keep the photographs of prom forever, so long or short, go for a dress you feel fabulous in!
I would just like to start this post by wishing you all a very Happy Belated New Year!  We have so many exciting projects in store for this year; there are two in particular I just can't help but chatter about!
Project 1: out with the old (but still GORGEOUS dresses!), in with the new!
Our first project of the year was to hold the biggest (and might I add BEST!)
January sale we've ever had, with our top quality brands such as Forever Unique at 'you're robbing us blind' prices starting at just £45!  Please click here to see the range of sale dresses we currently have (and don't leave it too late, once they're gone, they're gone!).
Our sale items are being replaced with our new, glitzy and glamorous prom dresses.  It came as no surprise to us to see some very organised prom girls in late December looking for their sparkly dresses for the biggest night of their teen years.  We can guarantee that all eyes will be on the girls who are wearing Walk in Wardrobe dresses on the big night, who could possibly force their eyes away from such dazzle?
Project 2: a brand new upgraded website to rival all others!
Working on the new website has created so much buzz and excitement amongst our team (as well as a lot of hard work!).  Our new website will make it easier to hire online (including the ability to check date availability), purchase online, keep up to date with our fashion show events, style forecasts and of course, our blog.  You will also be able to easily share the products you love on your favourite social media sites such as Pinterest (to follow us on Pinterest: www.pinterest.com/walkinwardrobe/).  There will also be a separate resale section for customers to resell their pre-loved Walk in Wardrobe items.   Most importantly, there will also be promotional codes for regular and loyal customers to get fantastic discounts!
The photo shoot for the new website happened last Saturday, and we would just like to say a big thank you to the models who will be featured on the website, firstly the highly experienced Lindsay Fergusson who once again delivered top quality posing and also to Kady Knight, a new, up and coming model, who did a fantastic job on her first big photo shoot.  Thank you also to our photographer Stuart Butcher (www.cameyera.com, Twitter: @stuartbutcher1).  This was our best photo shoot to date, so all you have to do is keep your eyes peeled to see the changeover!  www.walk-in-wardrobe.co.uk
On the 13th November the doors of the boutique were opened to our guests for our most exciting and glamorous fashion show to date.  We wanted to make this show extra special with only the most glitzy and chic dresses on the catwalk, the most stunning models and the most sensational hair and makeup!
The evening was a huge success, and we would like to say a huge thank you to: Alex and Willow from Cisco's Karma in Brighton for doing our model's sophisticated and trendy hairstyles and also to Ange Watson of Yawoma Makeup and Hair for doing the model's classy and chic makeup.  Thank you also to Heidi Cotton who picked the winner of our pencil dress competition and to Stuart Butcher for being our fantastic photographer on the evening!
[slideshow]
Christmas is just around the corner, I know this because they have been playing 'I wish it could be Christmas everyday' by Wizzard on the radio.  So this can mean only one thing, your Christmas party will be coming up soon and you will be wondering what to wear.  The big trend this Christmas is sparkle and glitter, which is fabulous because they go together like glitz and glamour!
There are lots of decisions to make when choosing your Christmas dress; full on sparkle, understated sparkle, mini, long etc.  Fortunately at the boutique we have so many different styles in for Christmas you are spoilt for choice!  These dresses will make you feel every inch the Christmas glamour puss and gliding around at the party in one of these is the surest way to get yourself noticed under the mistletoe this year!
At Walk in Wardrobe, we are celebrating a fantastic 15 years in business with an exclusive Fashion show at the boutique at 31, Western Road, Hove BN3 1AF on Tuesday 13th November 2012 at 6.30pm.
At this event we will be releasing our new collections in a glorious array of glitz and glamour with our new sequined evening wear with gorgeous embellishments.  We will be also be showcasing our new labels and extending our popular line of pencil dresses with even more trendy and edgy designs.  We are lucky enough to be able to work with renowned Makeup Artist Ange Watson of Yawoma Hair and Makeup: www.yawoma.co.uk and professional Hairstylists Steph and Romy on the big night.
We are very excited to be launching our brand new website in the New Year www.walk-in-wardrobe.co.uk.  With this new website we will be able to enhance our high quality service with more detailed images of the dresses and colours available.  The website will also keep you up to date with the latest fashions, style forecasts and our fashion blog.  You will also have the ability to share the products you love on your favourite social media sites.  The new website will make it easier for you to hire online and to know what dates the dresses are available for.  There will also be a separate resale section for customers to resell their pre-loved Walk in Wardrobe items.  Most importantly, there will also be promotional codes for regular and loyal customers to get fantastic discounts!
A few words from Katherine Tanswell, Proprietor of Walk in Wardrobe:  'I feel honoured and delighted to have had our work recognised by the Sussex Fashion Awards, who have given us the award for 'The best place to shop in Sussex' two years in a row in 2011 and 2012.  I would like to thank all of our customers for their continued support, each and every one of you have made my 15 years in business a genuine pleasure and I truly appreciate the chance to offer you our services.  I look forward to a continued relationship with you and look forward to extending our top quality service to our new customers both at the boutique and online'.
Although Daniel Craig was partially responsible for getting my heart racing at the Skyfall Premier this month, I must confess, the main cause of excitement for me was seeing all the ladies at the event looking so glamorous in their gorgeous dresses!  Bond fever seems to have struck the nation and our lovely customers are no exception; over the past few weeks we have witnessed a sudden surge of ladies coming into the boutique to find dresses for Bond themed parties.
When looking for your dress for a Bond themed party, you must look for dresses which are glamorous, sexy, but definitely not tacky.  The other thing to bear in mind is that you must never try to be something that you are not.  The Bond girls are all uniquely different in personality and each have their own wardrobe to reflect this, so all you need to do is pick your favorite Bond girl and steal her style!  At Walk in Wardrobe we can help you achieve both of these very important factors for your Bond party, it's probably the reason why we are the first port of call for the local ladies attending Bond themed events!
So once you look drop dead gorgeous, all you need to worry about is making sure that the drinks are shaken and not stirred….