Blue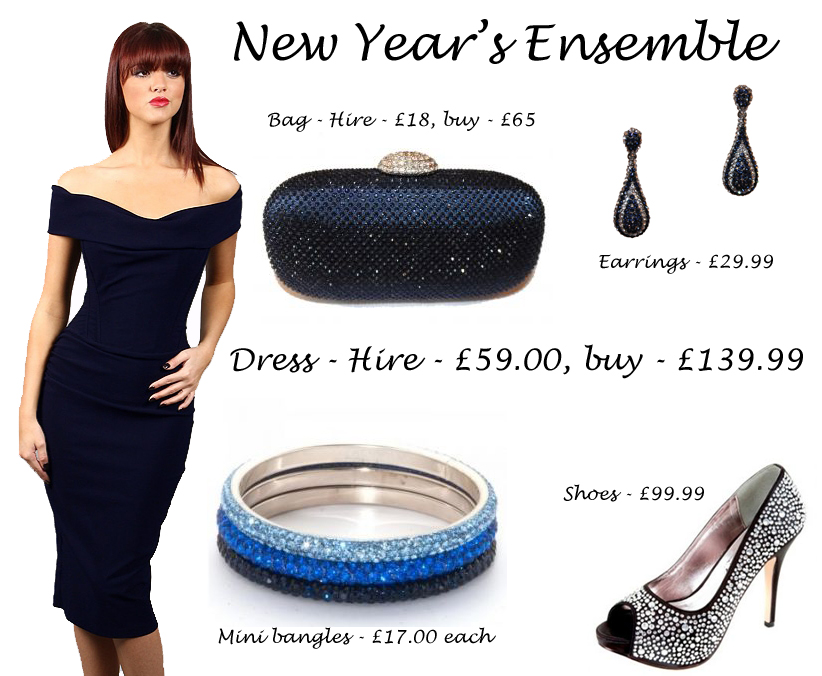 The boutique has been positively bursting at the seams with customers who are busily organising themselves for their Christmas and New Year's Eve parties, and we've had great fun helping them choose their accessories and dresses for their events.  This blissful little collection is perfect for a New Year's Eve party and will have you looking classy and sophisticated as you twinkle and dance your way into 2014!
Blue has always been a particularly influential colour in the fashion world and it has often frequented the red carpet on celebrities such as Kate Middleton and Kylie Minogue.  So why has blue been a colour which has stood the test of time amongst fashionistas?  The answer is simple – blue is powerful, regal, commanding and uber-stunning!  Blue is also a fabulous colour due to it's versatility; being a colour where there are unquestionably hundreds of different shades, it would be truly impossible to be unable to find a hue of blue which suits you!
One question which has often cropped up is what accessories go with a blue dress?  One thing I would like to say is to make sure that you are not over-doing blue, a blue dress with tonnes of blue jewellery can render you looking rather smurf-like – a BIG fashion faux pas!  Instead, opt for a complimentary colour, as blue looks great with a variety of colours, you can be fairly flexible when it comes to accessories.
This gorgeously stunning full sequinned dress in midnight (or navy!) blue with black lace trim is gorgeous if you want to wear a dark colour to your event but you want something a little softer than black.  Features of the dress include adjustable straps at the back to ensure perfect fit with full support and a thigh high split for that sexy-but-classy look.  Being sparkly, this dress is pretty versatile when it comes to accessories.  You could compliment the dress and offset the black lace trim with some matching black accessories.  If you are going to go for black accessories make sure you stay away from anything too chunky, instead opt for black strappy sandals and delicate black crystal earrings and a bangle to keep in line with the elegance of the dress.  Another option with this dress is to wear silver sparkles to really bring out the shine of the sequins.  If you are going for silvery sparkles, make sure that you opt for delicate silver shoes accordingly.
This undeniably beautiful royal blue high neck backless dress (pictured right) is the perfect dress for a black tie event or prom.  With it's silver sparkly rhinestone neckline and back, there really is only one option for this dress when it comes to accessories – silver.  Couple this dress with glitzy silver shoes, a silver diamanté bangle and some diamanté twinkles in your ear lobes.  With this dress it's probably best to stay away from a necklace as it can make the neckline look too cluttered.  If you do want to wear a necklace, choose one with a thin chain and a very long drop and wear it in reverse so the drop cascades down your exposed back for a real top celebrity, red carpet look!
This dress is a really lovely desk to dinner dress, and due to the fact that it is plain (but beautifully cut!) you can really have a lot of fun with the accessories and really go over the top.  Quite simply, there are countless ways to accessorize this dress, if you are going out for the evening in this dress and want to look particularly glamorous, team it up with silver or gold sparkles and a pair of dramatic earrings.  However, if you are wearing this dress in the day time, I think this dress looks particularly funky with neon coloured accessories, in particular a bright pink.  If you do decide to go 80's neon with the accessories, choose chunky jewellery to make a real statement.
Do you have a question I haven't answered?  Tweet to me @walkinwardrobe with your question and hashtag #askwalkinwardrobe