Forever Unique
The women's clothing sale is continuing into 2014 at the most crazy knock down prices!  Dresses in our sale start from just £30, so it might be possible for you to add accessories to your party dress all for under £100!  Here are some of our top picks from our bargain sale: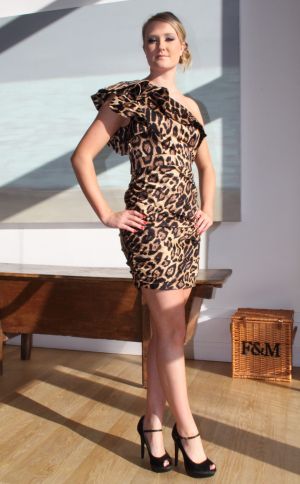 Leopard print one shoulder mini cocktail dress by Forever Unique – buy for just £50
Anyone who has been following my posts will be well aware that I am partial to leopard print, and this gorgeous little dress is an absolute steal at just £50 by renowned, celebrity endorsed label, Forever Unique.
This dress looks fabulous with a killer pair of black heels and black accessories and is the perfect dress for an evening out or ladies day at the races.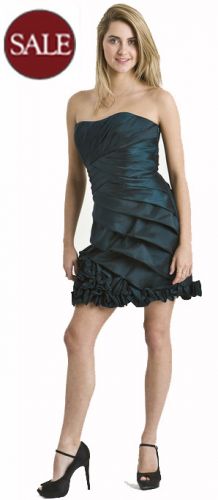 Hunter green mini prom dress – buy for just £29.99!
Not many young ladies will be able to say that they found their prom dress for £29.99, but we are pleased to confirm that such an opportunity is perfectly plausible at our boutique!  This stunning little mini dress has darling ruffles at the bottom and figure flattering ruching which will give a great shape.
This dress looks lovely with silver accessories which will really pop against the dark green.  Although many girls and mothers of prom girls wonder whether short dresses are acceptable for prom, I can confirm that short dresses can look just as sophisticated and elegant, and are a perfect way of ensuring that your daughter can dance the night away in comfort and style!

One shoulder burgundy bridesmaid dress – buy for just £59.99!
We are well aware that weddings can be quite expensive affairs, but just because you are on a budget doesn't mean that your wedding wont be a beautiful day to remember.  Any savvy bride will know that a few tweeks here and there can save a few pennies (and we all know that pennies make pounds!).  For example, your bridesmaid can look absolutely stunning and elegant in this one shoulder maroon bridesmaid dress with puddle train.  This dress gives a stunning shape with it's fitted bodice and is a must for any bridesmaid who is part of a whimsical, fairytale wedding.
Whatever occasion you are attending, we are confident that you will be able to find your perfect outfit at our boutique, and the current sale prices, you may even be able to buy TWO perfect outfits!
Over the past few years Forever Unique has become one of the biggest fashion labels and now enjoys status as a top celebrity brand on the red carpet.  If you want a slice of the celebrity pie, now really is the time to do it as we are offering a beautiful selection of Forever Unique dresses at unbelievable prices!  So, if you are planning ahead for prom or any other special event, Walk in Wardrobe is definitely the place to be!
Bargain tutu cocktail dresses by Forever Unique
I love tutu dresses as they are fun and flirty and perfect for a number of occasions such as a semi-formal black tie event or prom.  I love the flattering fit of the tutu dress as they cinch in the waist to show off the smallest part of any woman's body – the waist.  Both of these tutu dresses are available at the boutique for just £50!
Left dress:  I myself am the proud owner of one of these dresses and I can assure you that I always feel special when I put it on!  This is a top celebrity dress which has been spotted on ex-Atomic Kitten's Kerry Katona when she became the runner up on Celebrity Big Brother in 2011.
Right dress:  This tutu dress is fabulous for the summer months due to it's light coral colour and has a lovely little gold brocade to give you a bit of sparkle for a really special event.
Cheap bodycon Forever Unique dresses
If a tutu dress just feels too A-line for you, you may want to opt for one of our sleek bodycon dresses by Forever Unique.  These stretchy dresses are fabulous if you want to show off your curves and are perfect for a special event such as a birthday or for Ladies Day at the races.  Both of these dresses have figure flattering rouching, which is wonderful if you have a few bits on your body you want to hide, but still want to remain modern and elegant.  These dresses are a real steal at just £39.99!
Right dress:  I'm sure I don't need to tell you that monochrome is a big fashion must have this season, and this dress is brilliant as it doesn't contain too much black so you can still feel light and summery in the remainder of August.
Left dress:  This mini dress is the last one of this style we have and it is available in a stunning royal blue.  A gorgeously flattering length even on smaller ladies as the length stops at just the right point to elongate the figure.  This dress has a stunning cowl back with drape so you can do those nice over the shoulder poses for photographs!
At these prices I don't expect them to stay long at the boutique, so make sure you get in there quickly before someone else does!