Black
Now that summer has officially departed it's time to get that favourite fashion staple out of the wardrobe – the little black dress.  Prior to the 1920's, black dresses were only worn during times of mourning, and in those days, I'm sure that no one would of anticipated that black dresses would become such a fashion necessity.  The pioneer of the little black dress as a versatile, fashion must can be attributed to none other than Coco Chanel in the 1920's.  Since then, the little black dress has really stood the test of time, proving itself to be fashionably adaptable in the 1930's with the popularity of the black flapper dress, practical through the time of rationing in the 1940's where women could accessorise their black dress differently each time it was worn, and right through to the present day where designers have really pushed the design boundaries of the little black dress.  As a result, we have the little black dresses you see today which are as diverse as much as they are desired.  So why has the little black dress become such a classic?  The answer is simple – it's because it is slimming, you can mix it with any colour of accessories (and indeed can be mixed with any style of jewellery, be it fine jewellery or costume jewellery) and it's a colour which lends itself readily to any style of dress, so you will always be able to find a black dress which will suit your body shape!
At Walk in Wardrobe we know that the little black dress is a style which will NEVER go out of fashion, and this season we have sourced the most unique, imaginative and up-to-date black cocktail dresses, that if well looked after, could only be described as investment pieces.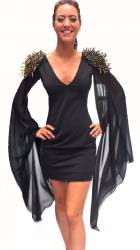 This long sleeve little black mini dress on the right is a real head turner with feature gold colour spiky shoulders and whimsical floaty sleeves.  The plunging neckline and short length adds a definite modern twist so you can remain sexy yet classy.  Due to the embellishments on this dress, accessories can be kept to a minimum, opt for simple dangly gold colour earrings and gold or black shoes.  Although I don't really recommend a necklace with this dress, if you really want to go for a necklace, choose something which is simple and not too busy or dramatic or it could potentially take away the effect of the feature shoulders.  This is the perfect little black dress if you want to make an impact on a night out.
For a simple yet effective black dress this two piece body con dress (pictured left) with mesh lace overlay and high neck has become a much loved, hot seller at the boutique.  This dress has a very simple bodycon slip with a very unique gold threaded mesh overlay with a high neck decorated in black petals.  The sparkly sequins scattered on the overlay twinkle slightly in the light without being too garish.  This dress looks fabulous with a pair of black shoes and gold accessories.  However, with this particular dress make sure that you're not going to OTT with the accessories and keep them elegant.
One thing's for sure, the little black dress is a craze that will never go away, and with so many different styles, it would truly be impossible not to be able to find the perfect black dress for you.