Monthly Archives:
February 2014
If you want to have a daring peep of thigh with your dress you would certainly be in good company as celebrities such as Paloma Faith, Angelina Jolie and Jenny from the block (aka J-Lo) have all been spotted recently sporting high split dresses. These thigh bearing dresses come in a variety of styles but by far my favourite is the high split long dress – it's elegant and classy but still has that 'a little bit sexy' look with a slight tease of thigh. However, with all dresses which show off a lot of one part of the body, you have to be careful on how you wear this style as you don't want to end up looking tacky.  Here are some helpful tips to make sure you fall into the latter category:
1. If you are going for a split dress where the split doesn't go up too high, feel free to go for a lower neckline. However, if you are going for a really high split, go for a higher neckline to ensure that there isn't too much on show.
2. At least one of your legs are going to be on show in this style of dress, so make sure that you go for some really glamorous shoes.  Flats are just not going to cut it with these dresses, instead, opt for a fabulous pair of open heels or wedges.  If you go for a fully closed shoe you will run the danger of making your feet look a bit too heavy – the trick is to keep it delicate.
3. Pictures are bound to be taken, so make sure you practise how you intend to pose in front of the mirror before you go out. Avoid just sticking your leg straight out of the split to the side, instead opt for a stance like our models below, where you peep the leg slightly through the split and place your foot delicately on the floor – this is why you need a splendid pair of heels or wedges!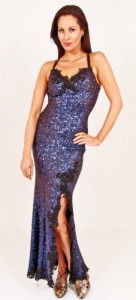 This stunningly gorgeous full sequin, midnight blue fishtail high split dress (pictured right) with black lace trim is an absolute knock out and is guaranteed to get heads turning at your function.  This dress is also in stock in bright red for a very Jessica Rabbit look.  A fishtail dress suits many body shapes and is the perfect dress if you want to show off your curves!  Available to hire at £135, or to buy for £489.99.  The model pictured is showing you the perfect way to pose in a high split dress.

If a fishtail mermaid dress is not for you, how about this floaty black one shoulder Grecian style black dress?  This is a real celebrity dress and has been spotted on the likes of Lucy Mecklenburgh of TOWIE on the red carpet.  This dress offers a classic style with a modern twist with a slightly daring cutout and a thigh high split.  With figure flattering ruching at the stomach area, it is the perfect dress if you are concerned about your midriff.  Available to hire for £75 or to buy in sale at just £159.99 (reduced from £195!).

For something completely different and unique, we also have a beautiful and elegant satin fishtail dress with train with delicate peacock embroidery and a scattering of sparkly beading.  This classic, figure hugging dress is available at the boutique in blue for hire at £75 or to buy at sale price at £139.99 (reduced from £249.99!)
If you have any questions for our team of stylists why not tweet to us – @walkinwardrobe #askwalkinwardrobe