Monthly Archives:
October 2013
Now that summer has officially departed it's time to get that favourite fashion staple out of the wardrobe – the little black dress.  Prior to the 1920's, black dresses were only worn during times of mourning, and in those days, I'm sure that no one would of anticipated that black dresses would become such a fashion necessity.  The pioneer of the little black dress as a versatile, fashion must can be attributed to none other than Coco Chanel in the 1920's.  Since then, the little black dress has really stood the test of time, proving itself to be fashionably adaptable in the 1930's with the popularity of the black flapper dress, practical through the time of rationing in the 1940's where women could accessorise their black dress differently each time it was worn, and right through to the present day where designers have really pushed the design boundaries of the little black dress.  As a result, we have the little black dresses you see today which are as diverse as much as they are desired.  So why has the little black dress become such a classic?  The answer is simple – it's because it is slimming, you can mix it with any colour of accessories (and indeed can be mixed with any style of jewellery, be it fine jewellery or costume jewellery) and it's a colour which lends itself readily to any style of dress, so you will always be able to find a black dress which will suit your body shape!
At Walk in Wardrobe we know that the little black dress is a style which will NEVER go out of fashion, and this season we have sourced the most unique, imaginative and up-to-date black cocktail dresses, that if well looked after, could only be described as investment pieces.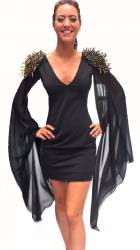 This long sleeve little black mini dress on the right is a real head turner with feature gold colour spiky shoulders and whimsical floaty sleeves.  The plunging neckline and short length adds a definite modern twist so you can remain sexy yet classy.  Due to the embellishments on this dress, accessories can be kept to a minimum, opt for simple dangly gold colour earrings and gold or black shoes.  Although I don't really recommend a necklace with this dress, if you really want to go for a necklace, choose something which is simple and not too busy or dramatic or it could potentially take away the effect of the feature shoulders.  This is the perfect little black dress if you want to make an impact on a night out.
For a simple yet effective black dress this two piece body con dress (pictured left) with mesh lace overlay and high neck has become a much loved, hot seller at the boutique.  This dress has a very simple bodycon slip with a very unique gold threaded mesh overlay with a high neck decorated in black petals.  The sparkly sequins scattered on the overlay twinkle slightly in the light without being too garish.  This dress looks fabulous with a pair of black shoes and gold accessories.  However, with this particular dress make sure that you're not going to OTT with the accessories and keep them elegant.
One thing's for sure, the little black dress is a craze that will never go away, and with so many different styles, it would truly be impossible not to be able to find the perfect black dress for you.
When our customers speak we listen, and what our customers said was that they wanted more designer quality, unique and affordable accessories – and we have certainly delivered!  I am well aware that finding the right accessories to go with your dress can be pretty hard work, but fortunately we have done all the hard work for you, and we have now expanded our jewellery section at the boutique, so you really can get kitted out under one roof regardless of whether you are looking for bridesmaid accessories, bridal and wedding accessories, accessories for prom or accessories for a night out with the girls.  These delectable little pieces of glamour also make perfect Christmas presents, and although Christmas is a couple of months away, there's no harm in being organised!  Below are my favourite picks of our new jewellery range, for more, have a little peek at the accessories section on our website.
Statement necklaces
My jaw definitely dropped when I saw this utterly gorgeous necklace, and it's probably my own personal favourite of all the statement necklaces.   The trick is with statement necklaces is to let the necklace do all the talking, and what I'm really getting at is to keep everything else very simple with your outfit.  Keep the rest of your jewellery simple, in particular the earrings (I find that sparkly stud earrings are the perfect accompaniment to this necklace).  Don't ever worry that your outfit may be too simple, the statement necklace will change your outfit from plain to show stopping.
If you are concerned that a statement necklace may be too uncomfortable to wear due to weight, think again.  This particular necklace is made out of long silver coloured chains and is dotted with twinkly crystals and is very lightweight, so you can feel comfortable whilst still looking utterly fabulous! This necklace stands out particularly well against a plain black dress, or if you are feeling particularly cheeky on holiday, over your favourite bikini!  When storing this necklace, use a padded hanger to minimise tangling.
Vintage style jewellery
The Great Gatsby film created a huge demand for vintage style accessories.  The key things to remember when choosing your vintage style accessories is to keep them glitzy, bold and opulent.  This vintage style black lace choker is the epitome of vintage style with it's starburst flowers and black jet glass beads.  This choker necklace looks great with a dress with a low, round neckline, a square neckline, or my personal favourite style of dress to wear with a choker, the strapless dress.  With this choker keep the dress fairly simple and match the choker with a matching cuff bracelet and some simple matching black earrings.
This vintage style cuff bracelet (left) is simply beautiful with it's intricate design and soft pink colours.  This cuff bracelet is delicate and is an absolute must if you are wearing a dress or top with 3/4 sleeves.  This particular bracelet is brilliant if you have tiny wrists due to the fact it opens and closes on a gentle clasp, so it can fit any size!
Of course, no vintage style outfit is complete until you have your glitzy hair accessories in.  These little bits of sparkle (pictured right) nestle subtly in your hair to give your crowning glory a bit of glamour.  These look very sophisticated if you are wearing an updo such as a bun or chignon.  The comb simply slots into your updo and secures into place, so you don't have to worry about losing these little gems.  If you are wearing your hair down, you can still use a hair comb, but it may need a few extras to hold it in position, kirby grips are great if you want a little extra security, but make sure you purchase clips which are the same colour as your hair and pop them in deeply so they remain hidden.
These accessories are just a few we have in stock at the moment, for our full range visit our accessories online here.
Don't forget that we are always here to answer your style queries, and if I haven't answered your question here, send a tweet to @walkinwardrobe and use the hashtag #askwalkinwardrobe