admin
Here at Walk in Wardrobe we have completely fallen in love with the cold shoulder look and have been regularly sporting cold shoulder dresses and tops over the past few months.
A cold shoulder top at it's simplest is an ordinary top with peekaboo holes at the shoulders. So why would anyone wear tops and dresses with holes in?! Because they are quite simply a MUST for the summer months! Exposing the bare shoulders adds a bit of edginess and sexiness to a look without being too risqué, it is just the perfect combination of sweet and sassy. It's not only the look which is a massive selling point of these dresses and tops, they are also wonderfully practical too. Unlike off the shoulder tops and dresses, you can wear an ordinary bra and are perfect if you want to stay cool in the summer but are not 100% comfortable with showing your arms off. No matter what your shape and size, cold shoulder tops absolutely suit everyone. As cold shoulder outfit designer Donna Karan stated, women never complain about their shoulders!
Cold shoulder tops
Cold shoulder, floaty tops are gorgeous for the summer months, the floatyness allowing air to circulate and offer the added benefit of looking whimsical and feminine. These tops come as simple, plain tops or come with embellishments such as beading and lace. They look super cute with skinny jeans and flats. Here are my favourite cold shoulder tops at the boutique at the moment (click the photos to view on our website)
Prom 2016 is upon us and we have been busy at the boutique helping prom girls from all across Sussex and beyond get ready for their big day. There are some amazing trends for 2016, ranging from fun and sweet cocktail dresses to elegant, sensational long gowns. We've picked out some real wow factor trends so you can shimmer the night away at prom this year – which will you choose?
Illusion prom dresses
We've always been big fans of illusion prom dresses, especially if the illusion panel has a bit of dazzle on it! Illusion panels are usually made out of tulle fabric and have sparkly gems attached to them. These tulle panels are usually on the neckline, on the back, or on the waist area of the dress. Great for any prom girl who wants to be elegant and classy.
Floaty chiffon prom dresses
This style is a staple when it comes to prom dresses, and it is a firm favourite again this year. Made from floaty chiffons and flowing lightweight silky fabrics, their elegant floaty skirts are very popular with girls who want that fairy tale look for their prom. If in doubt when choosing your floaty dress, just ask yourself 'what would Elsa from Frozen do?'
Lace prom dresses
Lace was a massive trend for prom 2015, and it's back again for prom 2016. Lace dresses are timeless classics with their exquisite lacy details.
Mermaid prom dresses
Often seen on the red carpet, the mermaid dress has been another staple when it comes to prom fashion, and it shows no sign of going out of style any time soon! This type of dress is typically fitted down to the knee or the mid-thigh and comes out sharply from that point to emulate a mermaid's shape.
Short prom dresses
Tutu style cocktail dresses are perfect for fun loving prom girls who want to show off a fabulous pair of shoes! These dresses are super practical if you want to dance the night away.
Stay stylish prom girl!
We can't wait for the warm weather to roll around as we are eager to unveil our new SS16 collection! For the spring and summer, we will be introducing two new European fashion labels to the boutique, ranging from size small to 2XL. As we are amongst friends, we are going to give you a little sneaky peek into these two fabulously chic and stylish brands.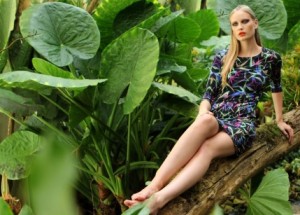 Smashed Lemon
Smashed Lemon is a vibrant Dutch label known not only for their remarkable prints, but their fantastic quality also. This bright, playful collection has a youthful and feminine vibe with a retro twist.
Designed for open minded women with their own sense of style and fun, Smashed Lemon offer ladies clothes for different occasions, be it coffee with friends, a day at the office or glitzing it up at a party.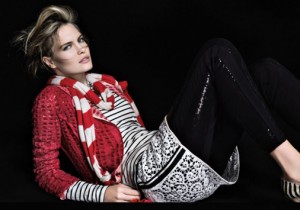 Elisa Cavaletti
Elisa Cavaletti is a sophisticated, easy to wear Italian label aimed at adventurous women of all ages with a zest for life and a love for the innate beauty in the world around us. Elisa Cavaletti uniquely fuses comfortable clothing with Italian artistry, focusing on stunning prints and fabrics with overlapping colours which gradually emerge into exquisite detailing.
Appealing to women of all ages, this label is perfect for any occasion from milestone ceremonies to everyday life.
I'm not sure what officer of the style police said that you shouldn't wear leggings past 40, but they are so wrong! I'm always amazed how controversial leggings seem to be. In my opinion, they are a stylish item of clothing for any age and are a must for the winter months.
How to wear leggings (and look amazing!).
1. Always splash out the cash and buy leggings which are great quality.
The only thin fabrics which should adorn your pegs are tights. Opt for good quality, thick fabrics which are firm with good stretch. Wearing firmer leggings is important as they will give your legs a great shape with smooth lines. With great quality leggings, you will feel effortlessly elegant and super confident! The added benefit of good quality leggings is that they are a fashion investment and last longer. You'll also have that feeling of wearing trousers whilst being comfortable wearing leggings!
2. Patterns or plain?
Well that is a judgement call on your part! Patterned leggings are fun and can make a real fashion statement. If you're not particularly brave, opt for subtle prints or one colour embossed patterns. Always team up patterned leggings with a plainer top. Likewise, if you are going for plain leggings, you can go wild with a top which has bold patterns. Plain with plain is also a great look, just make sure you have a few accessories to break it up. Faux leather or PVC are great for an edgy look and look brilliant with slouchy tops.
3. What top should I wear with leggings?
I always feel more comfortable coupling my leggings with a longer top or jumper dress. Usually somewhere between the top of my legs and just above the knee. If you've only got shorter tops to hand, just add a long cardigan for instant warmth and style. As an alternative, you could wear a top with a
high low hem (i.e. longer at the back, shorter at the front). These high low tops look ultra modern, cool and carefree. You could even try this look with a blazer. For a more boho look, wear your leggings with a short top, throw on a poncho and slip on some furry boots.
4. Shoes
Shoes are really easy when it comes to leggings, stilettos and flats both look great. Knee high boots look brilliant with leggings and have the added bonus of keeping your calves warm. Leggings also look super cute with wintery type boots such as snow boots or Ugg style boots.
Shop our amazing range of great quality leggings here, and get a fantastic top to match here.
From now to December the social calendar is awash with black tie events, and many of our first time customers come to us having just received a black tie invitation and are in a panic as to what to wear.  The black tie dress code has been modernized over time, but one thing has stayed the same:  black tie events are gorgeously sumptuous, important social events!  So, before you dip into your wardrobe, just make sure that you are aware that black tie means formal event and you will be expected to dress appropriately.  However, don't feel daunted by this concept; instead, see it as your big opportunity to show yourself off in a stunning gown and some statement pieces of jewellery.
Compared to men, women have to go through a much more complicated process when choosing their black tie outfits, but the staff at Walk in Wardrobe are here to help.  Outlined below are a few tips and tricks to help you shine at your black tie event.
Can I wear a cocktail dress to a black tie event?
Black tie events usually mean that you will need to wear a full length gown, but as time has gone on, there has been some relaxation to this rule and some women prefer to opt for a knee length dress.  However, caution must be exercised if you decide to go for a short black tie dress as cocktail dresses can be considered semiformal and you may feel underdressed in a short dress.  If you do go for a short dress, make sure it's as glitzy and glamorous as possible, and do not go for a minidress.  Do remember though that it's not every day you get to wear a floor length gown – so if I were you, I would take full advantage!
Do I have to dress conservatively for a black tie event?
Do not limit yourself to a conservative dress, try to keep modern and sexy whilst maintaining a touch of class.  A plunging neckline or a backless dress can definitely be styles which are appropriate, but try to steer clear of anything too revealing, e.g. a backless dress with a plunging neckline and a thigh high slit, remember, it's all about looking classy!
What colour dress can I wear to a black tie event?
There are no limitations for colour when it comes to choosing your black tie dress, so you can be pretty daring when it comes to the colour you pick, so be confident and play with colour, bold colours can be really attention grabbing!
What accessories should I wear to a black tie event?
At black tie events you can really show off your jewellery, but it's really important not to go overboard and to accessorise well.  Choose a necklace and a pair of earrings which go with the outfit or a complimentary colour.  If you are unable to find a good match, go for a nice neutral colour for your jewellery, for example, clear sparkles or silver or gold jewellery.  Choose a clutch bag which matches any embellishments your dress may have or matches your jewellery, but try to stay away from an exact match to the dress as it can blend in too much with your outfit.  A stole to go around your shoulders works fantastically for a winter event, giving you that touch of Hollywood glamour whilst keeping you warm.
Our team at Walk in Wardrobe are very well versed in what to wear for a black tie event, if you have any other questions just leave it in the comments box below!
It appears that we are finally in a heat wave in the UK (touch wood!). To be frank, no matter how divine you are as a creature, that sweat is at some point going to emerge on your brow. Nevertheless, that chic, a la mode look is still attainable, even throughout this heat. Here are our top tips for keeping cool and classy throughout this summer:
Loose Clothing 
Wearing as little clothing as possible doesn't necessarily mean that you will feel cooler. The trick is to cover up a bit and wear loose clothing which will allow air to flow around your body. This extra layer will also protect your skin from the sun (big bonus if you are prone to sun burn!) as it will provide you with some shade as you waft about like a summer goddess. Kaftan tops are a gorgeous addition to any summer wardrobe, giving you the practical benefits of keeping cool whilst also looking amazing. If you are a lady who likes to hide her arms, kaftans are also a real boon!
This stunning full length kaftan to the right fuses bold, bright summer colours with an exotic print. As it is 100% silk, it is a natural fiber which is perfect for the hot summer months due to the fact that it is super breathable and helps you to maintain a natural temperature.
Capri pants
Capri pants (aka cropped trousers) are fabulous if you want to stay cool but not show off too much leg. Try to make sure that you get capri pants which finish in between the knee and ankle (a good length is pictured left). Tight fitting capri pants are best for a modern look.
Pictured left are our capri style pants which look great with loose fitting boho tunic tops for a contemporary, modern look. Our capri pants come in a gorgeous array of colours such as fuchsia, navy blue, black, white and dove grey.
Jumpsuits
Sleeveless jumpsuits are very much in fashion this summer 2015. Pictured right is a fabulous style we have at the boutique and is a relaxed yet classy jumpsuit with a fabulous print. What I particularly love about this style is it's versatility. It can be dressed down for the day time, coupled with a belt or just wear it as is, and for the evening time, jazz it up with a few blingy accessories for a classy and sophisticated look. You can even add a cropped jacket if you are going to a more formal evening party to make it look a bit smarter.
Henley Royal Regatta is undoubtedly one of the biggest events of the summer sporting calendar. Over time, it has become the most internationally renowned regatta with thousands of spectators travelling miles and miles to attend. Although the raison d'être for this event is the rowing, the fashion is undoubtedly a huge part of the event, so you really do need to make sure that you look the part! Whilst planning your outfit for such an event is (and should be) good fun, it's also really important to adhere to their dress code (especially if you are in the Stewards' Enclosure), if you don't, you are running the risk of being refused entry (how embarrassing!). Here are a few tips on the Henley dress code to ensure that this does not happen to you:
1. Dress length
If you are lucky enough to be in the Stewards' Enclosure, make sure that the hem of your dress is below the knee as knee flashing is a definite no-no! Likewise, make sure that you are not wearing divided skirts, culottes or trousers.
This figure flattering floral pencil dress pictured on the left is an excellent example of a great dress for Henley Regatta. This style of dress looks fabulous on many different body shapes including curvy, hour-glass and tall and willowy. The gorgeous floral pattern adds vivid splashes of colours to ensure that you will stand out from the crowd. This dress looks great with black shoes and a bright fascinator or hat to match the print. Check out that length too – not a flash of knee in sight!
2. Hats
Hats are not a requirement at Henley, but they have stated that it is customary to wear one. If you are concerned that a hat may be too much, a fascinator is an excellent alternative that wont block the view of anyone who is behind you who wants to take in the rowing!
This stunning, handmade, vintage inspired fascinator is a delicate alternative to a hat with gorgeous feathers and subtle bling.
3. Shoes
Although there are no formal requirements for shoes, the right footwear can really make the outfit. However, be mindful that for much of the event you will be tottering about on grass, so make sure that your shoes are sensible as well as fabulous!
4. Bags
Don't forget to finish off your outfit with a gorgeous bag. If you are wearing a patterned dress, pick out the secondary or tertiary colour to match the bag with, it's a great way to accent the other colours. If your dress is one colour, match it to the colour of your shoes or hat to break up the colour. If you are having problems colour matching, go for a trusty bag with clear sparkles (like the one on the left) – they look gorgeous with anything!
So, if you are lucky enough to be a ticket holder for the regatta, have a fantastic time and enjoy a Pimms for me!
The high street stores are awash with cheap prom dresses galore, so you may be considering going to purchase one from one of the many that are out there.  Your pull towards a high street store may be due to reasons including the big one; because they offer cheaper dresses than more exclusive, independent boutiques.  This is a common misconception amongst many shoppers, at least in our case!  Walk in Wardrobe HQ have been busily sourcing stunningly beautiful dresses for prom 2015, the majority of which either match or beat the high street stores in price!
Whilst high street chain stores do have their place in shopping for fast fashion, I would still not shop in one if I was going to attend a special event.  There are several reasons for this, the main one being that I would want a dress for my special event which screams good quality as well as being unlike anything anyone else would wear.  I wouldn't settle for anything less, so why should you?!  The dresses we provide are uniquely handpicked by our exceptional buying team who look for:  excellent designs that are not mass-produced, good quality workmanship and good quality fabric.  Our rule of only providing quality items means that if you look after your dress from Walk in Wardrobe well enough, it can last for years, meaning that you are getting true value for money and you will have a distinctive and unique dress which will really make you stand out from the crowd!
Secondly, as you are going to a special event, don't you need special customer service?  The customer service culture amongst high street chain stores is very different to the customer service you can expect from an independent boutique.  We offer a fun, relaxed and friendly atmosphere where we can take the time to assess the individual customer's needs and we like to get to know them personally so we can help them choose a dress which will reflect their personality for their special occasion.
Unlike the high street chain stores, we also offer a hiring service, which means that you can get that designer look for a fraction of the cost and it also means that you can save on space in the wardrobe!  We also never release the same dress to the same function, so shopping with us also means that you will never be in that embarrassing situation where you turn up to a function and someone else is wearing the same dress as you!
We are delighted to once again be in the midst of prom season and are having a fabulous time helping the prom girls pick out their prom dresses and accessories for their big night.  As ever, we like to do our best to be helpful, so this year we have collated together the hottest trends for Prom 2015.
Backless prom dresses
Backless dresses have always been particularly popular on the red carpet, and last year was the year the style trickled down to prom.  This year is no exception, so you can expect to see dresses dipping low, low, low in the back at prom.  If you want to keep an elegant air about you when you wear a backless dress, make sure that you have a high neckline, and you don't over do it with the accessories; remember that the back is the key feature of this dress, so don't make your back compete for attention.  This particular style lends itself easily to the classic up-do hairstyle as it keeps the back clear and draws attention to the hair.  The key issue with backless dresses is to make sure that you don't have your bra on show.  If you are not confident enough to go braless, go for a stick on bra which will give you support whilst giving you the ability to wear your backless dress with confidence.
This elegant red backless prom dress (pictured right) has a classically high neckline and a low, dipped back with gorgeous sparkles encrusted at the base of the back, neckline and straps.  The train offers that little bit extra so you can feel like a Hollywood starlet when you go to prom.
Eye-catching crystals and sequins
Whether it is all encrusted or a light scattering of crystals, bling is big for spring!  Bling bling dresses have gained almost iconic status on the red carpets, and again, you can expect to see dresses twinkling and shining at Prom 2015.  Dresses with crystals and sequins look and feel glamorous and are a super way of grabbing attention for that 'all eyes on you' grand entrance.  If you are going to be wearing a dress with fully encrusted crystals, be mindful not to go OTT with the accessories or you may run the risk of 'over-bling'.  Instead opt for subtle pieces of jewellery which compliment the dress, not compete with it.  If you are going for a light scattering of sparkles, you can wear slightly heavier jewellery to bring out the shimmer and shine of the dress.  As with all accessories, go for the same shade of shine as the crystals or sequins to accent the dress.
This truly enchanting, blingy fishtail gold princess dress (pictured left) is the epitome of 'look at me' glamour, wear this dress with simple drop earrings and a simple and elegant bracelet, let the dress to the rest of the talking!
Lace
Lace dresses are ideal for girls who like a touch of vintage but want to stay contemporary.   Alongside it's timeless elegance, lace is also incredibly versatile, with an exciting array of colours and underlays of contrasting colours and fabrics.  In short, the possibilities for lace is endless.  We particularly like lace dresses to be fitted with a contrasting underlay of colour to ensure that the lace is shown off to it's full potential.
Pictured to the right is a lovely little skater style short lace prom dress which is trendy as well as having that touch of elegance with the red lace.  Short dresses are absolutely brilliant if you are a shorter prom girl or if you want to dance the night away without the fear of treading on your dress.  It also gives you the opportunity to show off your pins and your shoes!
Sheer mesh
These dresses are daring, yet safe, see through, but kinda not!  In short, these dresses add a touch of the risqué whilst remaining oh-so-elegant and sophisticated.  The beauty of these dresses is that they tend to utilise that special illusion panel well and you will usually find that these dresses are embellished with embroidery or sparkle on the see through tulle.  These embellishments give people the illusion of a decorated second skin and allows you to stay modest with a peep of skin.
This stunning taffeta mermaid sheer mesh prom dress pictured to the right has the most beautiful embroidery creeping up the back with sparkles.  This is ideal for those prom queens who want to do those much sought after 'over the shoulder' photographs for prom.
If you have questions about prom styles why not tweet us @walkinwardrobe with the hastag #askwalkinwardrobe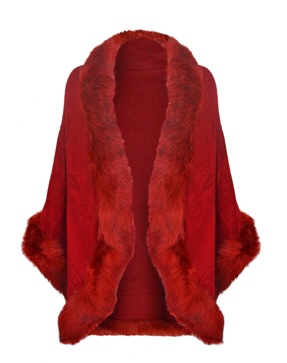 Although we never like to put a dampener on things, I think you will admit that after a glorious few weeks of sunshine the weather has now taken a turn and it is now rather cold.  So as we do away with our floaty summer dresses, we get busy pulling on our jumpers, snuggling up into our winter wear and enjoy a good mug of tomato soup on the sofa.  Bliss!  This change in weather obviously means that we will have to reassess our wardrobes and find the most glamorous way to keep warm this winter.  Don't worry, there is definitely one way of staying glam whilst keeping the chill off this winter which does not involve a cumbersome overcoat, and it comes in the form of the cape coat.
Capes are no longer purely reserved for Little Red Riding Hood and that lovely lady from Scottish Widows, they have in fact become a winter staple for 2014 and have been spotted all over this season's runways, it's only a matter of time for them to trickle down onto the high street!  As well as being this season's coolest way of covering up, capes are brilliant at transforming a casual outfit into a cool, feminine and glamorous one.  These capes look fabulous with skirts, thick tights, knee high boots, skinny jeans, heels for the evening etc.  In short, they look amazing with almost anything!  The best thing about them?  It's got to be the fact that you can just throw them on with stylish ease!