Monthly Archives:
May 2014
The versatile little gem also known as the maxi dress is simply a summer must if you are going on holiday, are out for the evening, or even if you're going out shopping for the day.  In short, you can wear your maxi dress to pretty much anything!  So why are maxi dresses so popular?  The answer is simply because they are low maintenance, comfortable, feminine, easy to accessorise and they can take you through right from day to night.   For many years, I believed that my 5ft 2, petite frame would render it impossible for me to be able to pull off a maxi dress as I believed that they would swamp me and make me look even shorter.  At the boutique we have dealt with many other ladies who also have the misconception that a maxi dress will only suit a lady who is tall, willowy and lean.  Whilst this is true of certain styles, there is no reason why a petite lady or a fuller lady should fear the maxi dress, the trick is to just find 'your' maxi dress.

Maxi dresses for short women
If you have a a small, petite frame, it doesn't mean that you have to avoid a maxi dress.  It is true that maxi dresses with oodles of fabric will swamp a small frame and you do have to be a little careful if you are a petite lady and you are going out maxi dress hunting.  I have found that an empire line can give the illusion of a longer leg and also a body con style maxi can look great on a petite lady as it gives the figure a bit of definition.  A V-neck also elongates the figure, so small ladies should definitely opt for this style of neckline.
Maxi dresses for the fuller figure
Maxi dresses are great for slimming down the lower half of the body whilst still maintaining a much desired, curvy shape, so maxis can look fantastic on a fuller figure.  As with petite women, curvy girls can go for a simple empire line dress (but make sure there is not too much embellishment on the bust line) like the one pictured on the left.  An empire line has the benefit of having floaty fabrics around the waist line so it can hide any problem areas.
Maxi dresses for ladies with a big bust
If you are concerned about your bust area and/or are a bit top heavy, maxi dresses are particularly flattering for you as a loose dress hides smaller hips and balances you out.  I have found that women with a fuller bust look fabulous in a dress with a v-neck, like this maxi pictured.  It's also fabulous because of the fact that you can comfortably wear a bra with it.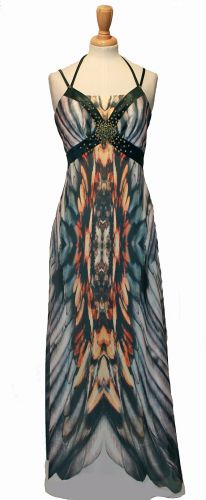 Maxi dresses for the pear shape
If you are a lady with fuller hips and a smaller bust, the trick is to find a maxi dress with an embellished top to draw attention to the top and keep the eyes away from the hips like the chiffon maxi pictured on the right.  This particular maxi has a lot of definition around the bust, and falls gently to a softly flared skirt, which will glance over a larger hip.

Maxi dresses for ladies with a boyish figure
Ladies with a boyish figure are rather lucky when it comes to the maxi dress as the majority of styles will suit a lean, willowy frame.  However, I have found that a cinch in the waist is very flattering on a boyish figure as it gives the illusion of a curvier shape.
Accessories to go with a maxi dress
Maxi dresses tend to speak for themselves, especially if they have a print on them, so don't overload yourself with accessories.  Personally, I love boho bangles, earrings and flat sandals with maxi dresses, and if you are going for a plain maxi dress, just add a necklace and you're ready to go!  If you are taking your maxi dress out on a night out, glam the look up with a few sparkly accessories.
If you have a specific question for a member of our styling team, why not tweet to us @walkinwardrobe with the hashtag #askwalkinwardrobe