The women's clothing sale is continuing into 2014 at the most crazy knock down prices!  Dresses in our sale start from just £30, so it might be possible for you to add accessories to your party dress all for under £100!  Here are some of our top picks from our bargain sale: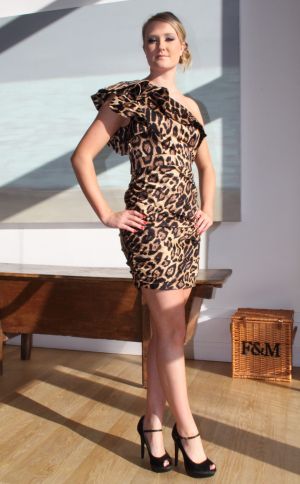 Leopard print one shoulder mini cocktail dress by Forever Unique – buy for just £50
Anyone who has been following my posts will be well aware that I am partial to leopard print, and this gorgeous little dress is an absolute steal at just £50 by renowned, celebrity endorsed label, Forever Unique.
This dress looks fabulous with a killer pair of black heels and black accessories and is the perfect dress for an evening out or ladies day at the races.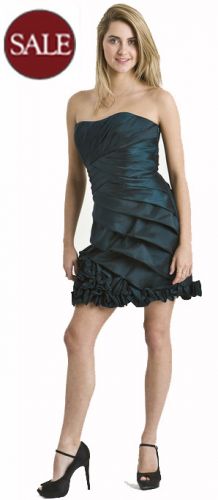 Hunter green mini prom dress – buy for just £29.99!
Not many young ladies will be able to say that they found their prom dress for £29.99, but we are pleased to confirm that such an opportunity is perfectly plausible at our boutique!  This stunning little mini dress has darling ruffles at the bottom and figure flattering ruching which will give a great shape.
This dress looks lovely with silver accessories which will really pop against the dark green.  Although many girls and mothers of prom girls wonder whether short dresses are acceptable for prom, I can confirm that short dresses can look just as sophisticated and elegant, and are a perfect way of ensuring that your daughter can dance the night away in comfort and style!

One shoulder burgundy bridesmaid dress – buy for just £59.99!
We are well aware that weddings can be quite expensive affairs, but just because you are on a budget doesn't mean that your wedding wont be a beautiful day to remember.  Any savvy bride will know that a few tweeks here and there can save a few pennies (and we all know that pennies make pounds!).  For example, your bridesmaid can look absolutely stunning and elegant in this one shoulder maroon bridesmaid dress with puddle train.  This dress gives a stunning shape with it's fitted bodice and is a must for any bridesmaid who is part of a whimsical, fairytale wedding.
Whatever occasion you are attending, we are confident that you will be able to find your perfect outfit at our boutique, and the current sale prices, you may even be able to buy TWO perfect outfits!