Monthly Archives:
July 2014
Before I start this blog post I would like you to ask yourself one question:  what exactly is it that YOU think makes a woman beautiful?  Is it long legs?  Is it a woman who is a size 6?  Is it a tiny waist?  I'm sure that if I asked 100 women I would get at least 50 different answers, which leads me to believe that what is beautiful is completely subjective to the individual.  As I have not actually asked 100 women, the only thing I will be able to share with you is my own opinion of what makes a woman beautiful, which is confidence in how a woman carries herself.  I have clocked up many years in the fashion industry and have fitted women of all different shapes and sizes.  I have found that certain figures look good in everything, but there are very very few women who actually look GREAT in everything (big difference!).  I remember many years ago fitting a lady who was very under confident about her body shape.  She was a size 18, broad and nearly 6ft tall and felt most comfortable in loose fitting clothing as she wanted to hide her figure.  When she came in to see me at the boutique the first thing she said to me was 'I'm sure you don't have anything which will fit me, but I just wanted to check as I have my friend's wedding to attend and I don't know what to wear'.  When I produced a fitted dress she had a look of horror in her eyes and simply said 'I couldn't possibly wear that!'.  I put the dress back on the rail and we selected a few more dresses she felt she would be more comfortable in.  After trying them on with no joy I went back over to the rail and pulled 'that dress' out again and asked her to 'just give it a go'.  She begrudgingly agreed and lo and behold, it was as if an entirely different woman had just stepped out of the changing rooms!  She looked fabulous and confident in her fitted dress which showed off the smallest part of her figure – her waist, and emphasised her fantastic hourglass shape.  Ladies, we have to work with what we have been given, and if you are a curvy lady, don't hide your figure in loose clothing, just find the right style of dresses and outfits to suit your unique shape.
At Walk in Wardrobe we have been working very hard on a line of outfits and dresses specifically to suit ladies with a curvy figure, I would like to share a selection of my personal favourites with you now: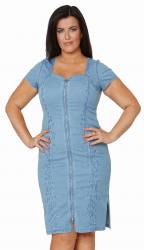 I simply love this stretch denim dress on curvy ladies.  The neckline is accommodating for a fuller bust without being too low cut, so you can feel chic and classy.  The placement of the embroidery is extremely clever on this dress, following the flow of a woman's figure vertically to visually break up the fabric.  A few little sparkles scattered about here and there adds a touch of glitz to this fabulous day dress.  The stretch denim of this dress hugs curves perfectly, and moulds to the contours of your figure, ensuring that the dress looks just as good from behind as it does from the front (a very important factor when purchasing a dress!).  This dress looks great with a nice pair of oversized sunglasses and tan accessories.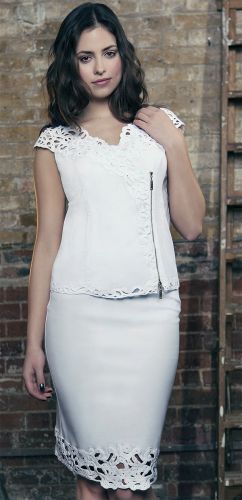 If separates are more your thing, how about this gorgeous lace top and matching skirt (pictured right, also available in black)?  Once again, this outfit is made from that very clever stretch fabric which moulds to the figure, showing off your curves.  The asymmetric zip on the top adds a nice bit of detail to break up the white and the darling lace cut outs add a touch of femininity and interest as well as giving the top part of your arms a bit of coverage.  The matching skirt (sold separately) has a feature zip back and matching lace trim.  This outfit has scatterings of lovely little swarovski stones, making it a perfect day to evening outfit.  None other than Kate Middleton was spotted in a white outfit with lace sleeves and trim, well, if it's good enough for Kate, it's certainly good enough for me!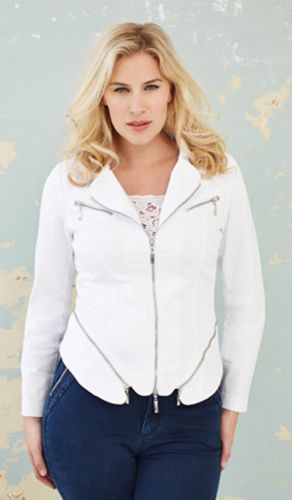 I am aware that curvy girls can find it difficult to find a well fitting jacket, they tend to fit at the bust and be ill fitting at the waist or vice versa.  Once again, we have identified this as a problem and have worked very hard to source jackets which are stretchy enough to accommodate ladies who have a different sized bust to their waists.  Big success, they do actually exist!  These fabulous jackets look modern, funky and flattering on curvy ladies, with none of that worry of an badly fitting bust or waist, simply zip up and go!  Features of this jacket include zips going diagonally from waist to hips to enhance the shape of the smallest part of your body.
NB.  The products above are by no means all we have in stock for the curvy lady, we have a full and fabulous range in our curvy section.  If you have any queries regarding our curvy girl range or would like further information please leave a comment below or contact the boutique on 01273 775583, or email us at office@walk-in-wardrobe.co.uk
Curvy girls, you look fabulous, love the way dresses and outfits hug your curves and most importantly, don't be shy about your figure!
Going out to work for the first time can be very daunting for many young people, however my week in the hands of Katie and Leah from Walk in Wardrobe has demolished all those worries. My name is Imogen Smith, 15, from Longhill High school and I have been working at Walk in Wardrobe as part of my work experience. As I am interested in fashion and the world of retail I thought this would be the perfect place to spend a week off school.
I have learnt a lot in the past week; from how to sew on a hook and eye, to how to keep a business going in these tough times. However, the main thing Katie and Leah taught me was about customer service and how to give a personal shopping experience. With their warm personalities and expert knowledge of their industry, they are able to offer help and guidance for customers to find an entire outfit: dress and all accessories.  At Walk in Wardrobe, Katie and Leah will be able to find the perfect outfit for you to go to the races, a wedding, prom etc.  They have recently expanded their daywear section so they can also help you select the perfect outfit for the day.
You hear all sorts of rumours about work experience and how the employers restrict you from doing anything, but my employers were determined to make my experience the best possible. They have shown me the ways of a business and the importance of reputation in business, that making friendships with customers and clients can build up your customer base.  They also found it was important to them to give me an opportunity, even when they didn't have to; proving they go out of their way to do what they can to help.
The boutique also has a beauty therapist, Louise, who works downstairs at Tranquilty.  Not only does Walk in Wardrobe benefit from Louise bringing new customers to the boutique, but Louise also benefits from the boutique sending customers to her for beauty treatments.  Fashion and beauty work very well together and brings a new, more personal touch to the business. Another aspect that I love about the boutique is that you can hire most items which allows customers to find new outfits for special occasions and not have the problem of not wearing them again and at the same time you won't be breaking the bank!
Overall I feel that I have had a full experience of what the industry is like. I have found that hoovering and cleaning is only normal but also helping someone find their next new favourite is all part of the job; therefore I have experienced it all. I am extremely thankful to Katie for allowing me to help her (I hope) for the week, additionally Leah both for giving me such a happy, exciting and helpful week. But to conclude, over the past week I have found that I now know exactly where I shall be getting my prom dress and other outfits for all kinds of occasions, because why would I want to go anywhere else? Especially when I know I can get the best clothes at the best prices with the best quality and above all the best look!