Follow us for news, events and special offers:


I started Walk in Wardrobe after finishing a course in fashion and design and dressmaking. Fed up with not finding the right fit, and not wanting to wear anything that someone else could be wearing, I was driven to source desirable and creative designed clothes to make you feel individual, being both stylish and easy to wear for most shapes and sizes. Each season, new collections are sourced to bring fresh and exciting dresses, separates and accessories to work well together. Shopping should be fun, exciting and pleasureable, we are here to show you what pieces look great together for every day wear as well as finding the perfect dress for that special occassion.
Why not try before you buy and hire your outfit?

Established in 1997, by Katherine Tanswell.
Stockists of long and short formal dresses, smart casual separates, clever accessories and crystal jewellery. Our collections will take you from day though to evening.
Collections are sourced mainly from the UK, Paris, Italy and other European countries.
New stock arrives regularly and we log what you are wearing to any special event, such as a school prom or black tie event, to ensure the same dress or outfit will not be duplicated at your event when booked through us.
Sizes stocked from UK6 to UK18 for slim to super curvy figures.
PRE-OWNED Items taken for RE-SALE: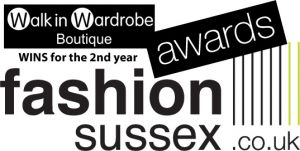 We take carefully selected pre-owned DESIGNER NEW, NEARLY NEW and VINTAGE items only for resale.
Once sold, you receive 50% OF THE SELLING PRICE.
Don't forget you can bring back your items previously purchased from Walk in Wardrobe for re-sale.
Terms and Conditions for Walk in Wardrobe Acting as Agents for the sale of pre-owned items:
Garments are accepted for resale at the discretion of Walk in Wardrobe. Garments must be cleaned and in excellent condition with no damage. Proof of authenticity will be required on top designer bags such as Louie Vitton and Chanel.
The customer will receive 50% from the sale. Payments will be sent directly to the customer via bank transfer.

Please contact the boutique quoting your invoice number to check if your item/s have sold.

Items will be automatically reduced after

one month

. After three months items not sold or collected may be withdrawn and given to charity.

Whilst every care is taken, Walk in Wardrobe accepts no responsibility for items left at the boutique and all items are left at the owner's own risk.
Quoted in the national press (Sunday Express) as the "Swankiest boutique in Brighton".

Winner of "Best place to shop in Sussex".