Join Us
Follow us on our social media platforms to ensure that you are always on trend for the season and always know about our SPECIAL OFFERS and FASHION EVENTS.
Use Us
Pre-Owned
If you want to SELL your designer or boutique clothes and accessories you can bring them to us on a SALE or RETURN basis.

See the new day wear concession "LACE" a collection by top celebrity stylist for OK magazine and BBC TV
Click for more info
Welcome to our award winning independent boutique based in the City of Brighton and Hove
in Sussex. Started in 1997, we are well known for our special occassion dresses which you can HIRE or PURCHASE. Personal stylists are on hand to show you our black tie evening dresses, prom dresses, bridesmaid dresses, cocktail dresses and smart day wear dresses and outfits. Team up with one of our hats, hair fascinators, shrugs and wraps to complete the look. Also jewellery and clutch bags. We have a selection of less formal bridal dresses and bridal SHOES.

See our new European DAY WEAR collections for curvy girls covering sizes 12 to 20. They include Skirts, Trousers, Tops, Jackets, dresses and Jumpers which is prooving a huge success in the boutique.

We stock sizes from UK6 to UK18

Beauty treatmeants are now available downstairs in the boutique by Louise.
Please visit her website for prices and bookings: www.tranquilityinthecity.com

PRE-OWNED: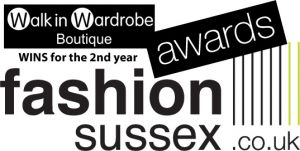 We take pre-owned NEW and NEARLY NEW boutique and designer items (including vintage items) for resale in our Bargain Basement showroom.
Once sold, you receive 50% OF THE SELLING PRICE.
Don't forget you can bring back your pre-owned Walk in Wardrobe items for resale too!
Terms and Conditions for Walk in Wardrobe Acting as Agents for the sale of pre-owned items:
Garments are accepted for resale at the discretion of Walk in Wardrobe. Garments must be cleaned and in excellent condition with no damage. Proof of authenticity will be required on top designer bags such as Louie Vitton and Chanel.
The customer will receive 50% from the sale. Payments will be sent directly to the customer via bank transfer. Please contact the boutique quoting your invoice number to check if your item/s have sold.
Items will be automatically reduced after one month. After three months items not sold or collected may be withdrawn and given to charity.
Whilst every care is taken, Walk in Wardrobe accepts no responsibility for items left at the boutique and all items are left at the owner's own risk.
NEW DAY WEAR CONCESSION
"LACE" has arrived downstairs at the boutique. This collection has been put together by Carol, who has styled celebrities for OK magazine and BBC TV.
CATWALK: Our boutique has a mini "red carpet" catwalk to show your perfect dress to friends and family. Quoted in the national press (Sunday Express) as the "Swankiest boutique in Brighton". We are proud to be the Winner of Best place to shop in Sussex 2011 and 2012.
STOCKISTS: Sousourada London, Mascara Collection, L'Atalier Pour Femme, DynastyUK, Yasmin Prom, Consortium, Jora, Gino Cerutti, Voyage (Paris and Italy), Maille Demoiselle, Lafei-Nier (Europe), Ana Alcazar (Spain), Moretto (Italy), Catwalk (London), Aftershock (London), Diva (London), Jayley Collection, Rosie Fox accessories, Love Rocks, Lemonade, Emma Fielden hair fascinators, London Hat Company,
SHOP POLICY for customers buying or hiring in the boutique
There are no exchanges or refunds on items once they have been purchased from the boutique, unless there is a manufacturers fault.
There are no refunds on deposits paid to purchase items in the boutique. A credit note can be issued.
There are no refunds or exchanges on items booked for Hire once the HIRE CONTRACT has been filled out and signed.
Sale items and pre-owned items are sold as seen and are NON-RETURNABLE