Join Us
Follow us on our social media platforms to ensure that you are always on trend for the season and always know about our SPECIAL OFFERS and FASHION EVENTS.
Find Us Opening Hours
Walk in Wardrobe Boutique Mon-Sat 10:30-17:30
31 Western Road, Hove
East Sussex, BN3 1AF
March to June
ENGLAND
Open late Thurs to 19:00
Click here to see our shop
Click here for a map
NO APPOINTMENT NECESSARY
Use Us
Pre-Owned
If you want to SELL your designer or boutique clothes and accessories you can bring them to us on a SALE or RETURN basis.Click for more info
Photo shoots
You can capture your special occasion with a photo shoot with our professional photographer in our studio. Click for more info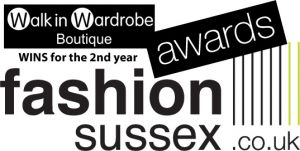 Walk in Wardrobe Boutique for Ladies looking for something chic and different. We have Day and Evening Collections in UK sizes 6 to 20. Visit our Boutique or Shop online.
OUR NEXT FASHION EVENT:One Stop Style & Shop event on Wed 7th May from 5.30pm to 7.30pm.
At Walk in Wardrobe boutique. Enjoy a glass of bubbles whilst Janine from Sassy Style shows you what will look best on you for your up and coming events. Find out what colours suit you best, and what styles will flatter you most. Talk to Louise from Tranquility about 15 minute beauty face make overs to look fresher, brighter and lifted!
TIckets £15 in support of Rockinghorse charity.
Our award winning independent boutique is based in Brighton and Hove, Sussex, UK, established in 1997. We are well known for our special occassion dresses for black tie evening dresses, prom, cocktail, ladies days out, mother of the bride, bridesmaid and elegant bridal dresses. We have just launched new DAY WEAR collections in sizes up to UK20. Team up with our crystal jewellery, tiaras, bags, hats, hair fascinators and Bridal shoes all under one roof.
For beauty treatmeants please visit Louise of Tranquility in her beauty room downstairs at the boutique.

PRE-OWNED: We will take NEW and NEARLY NEW designer items for resale. We also take in carefully selected stock clearance items from other independent fashion boutiques. Once sold, you receive 50% OF THE SELLING PRICE. Don't forget you can bring back your pre-loved Walk in Wardrobe dresses and items for resale too!
Terms and Conditions for Walk in Wardrobe Acting as Agents for the sale of pre-owned items:
Garments are accepted for resale at the discretion of Walk in Wardrobe. Garments must be clean and in excellent condition with no damage.
The customer will receive 50% from the sale. Payments will be sent directly to the customer via bank transfer. Please contact the boutique quoting your invoice number to check if your item/s have sold.
Items will be automatically reduced after one month. After two months items not sold or collected may be withdrawn and given to charity.
Whilst every care is taken, Walk in Wardrobe accepts no responsibility for items left at the boutique and all items are left at the owner's own risk.
PHOTO SHOOTS: Have a photo shoot in our new photographic studio. 1 hour photo shoot for 1 or 2 people to include a CD with your images. Bring your own outfits or choose dresses from the boutique. A stylist will be onhand to assist you. Perfect for special occasions. £89.99
CATWALK: Our boutique has a mini "red carpet" catwalk to show your perfect dress to friends and family. Quoted in the national press (Sunday Express) as the "Swankiest boutique in Brighton". We are proud to be the Winner of Best place to shop in Sussex 2011 and 2012.
STOCKISTS: Mascara Collection, L'Atalier Pour Femme, Precious Formals, DynastyUK, Yasmin Prom, Jon & Joe, Forever Unique, Jora, Gino Cerutti, Sousourada, Voyage, Maille Demoiselle, Catwalk, Aftershock, Rosie Fox accessories, Hybrid, Diva, Lemonade, Madeline Spain, Emma Fielden hair fascinators, Richards tairas, London Hat Company,
SHOP POLICY for customers buying or hiring in the boutique
There are no exchanges or refunds on items once they have been purchased from the boutique, unless there is a manufacturers fault.
There are no refunds on deposits paid to purchase items in the boutique. A credit note can be issued.
There are no refunds or exchanges on items booked for Hire once the HIRE CONTRACT has been filled out and signed.
Sale items and pre-owned items are sold as seen and are NON-RETURNABLE