Follow us for news, events and special offers:

Boutique Open
10.30am to 5.30pm Mon to Sat
Late Night Thursdays to 6.30pm
31 Western Road, Hove, E. Sussex, BN3 1AF.

Welcome to our award winning independent ladies boutique with Dress Hire. We offer fashion, personal styling and beauty over two floors, with a red carpet catwalk to sashay down. Established over 19 years, Independent since 1997.
Based on the main high street of Western Road in Hove, Nearest bus stop is Brunswick Square
.
We stock dresses, separates, accessories and jewellery for day though to evening, for smart casual to formal events.
Prom dresses, race day dresses, party dresses, evening dresses, cruise and resort wear, tops, jackets, jumpers, throws, capes, wraps, scarfs and beautiful jewellery.
New stock arrives regularly and we log what you are wearing to any special event, such as a school prom or black tie event, to ensure the same dress will not be duplicated at your event when booked through us.
Sizes stocked from UK6 to UK18 for slim to super curvy girls.
PRE-OWNED Items taken for RE-SALE: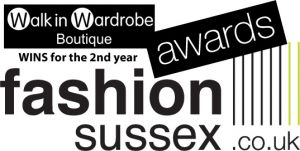 We take carefully selected pre-owned DESIGNER NEW, NEARLY NEW and VINTAGE items only for resale.
Once sold, you receive 50% OF THE SELLING PRICE.
Don't forget you can bring back your items previously purchased from Walk in Wardrobe for re-sale.
Terms and Conditions for Walk in Wardrobe Acting as Agents for the sale of pre-owned items:
Garments are accepted for resale at the discretion of Walk in Wardrobe. Garments must be cleaned and in excellent condition with no damage. Proof of authenticity will be required on top designer bags such as Louie Vitton and Chanel.
The customer will receive 50% from the sale. Payments will be sent directly to the customer via bank transfer.

Please contact the boutique quoting your invoice number to check if your item/s have sold.

Items will be automatically reduced after

one month

. After three months items not sold or collected may be withdrawn and given to charity.

Whilst every care is taken, Walk in Wardrobe accepts no responsibility for items left at the boutique and all items are left at the owner's own risk.
Quoted in the national press (Sunday Express) as the "Swankiest boutique in Brighton".

Winner of "Best place to shop in Sussex".