Events and Offers
Follow us on our social media platforms to ensure that you are always on trend for the season and always know about our SPECIAL OFFERS and FASHION EVENTS.
Downstairs at Walk in Wardrobe
New day wear concession "LACE" has arrived.
See the new collection by top celebrity stylist for OK magazine and BBC TV
Pre-Owned
SELL your unwanted designer clothes and accessories with us on a SALE or RETURN basis.
Click for more info
Welcome to our award winning independent boutique based in Brighton and Hove in Sussex
since 1997.
Walk in Wardrobe is known for special occassion dresses and separates which you can HIRE and BUY. We are quite unique and offer "fashion, styling and beauty under one roof" with a beauty room run by Tranquility as well as a personal stylist to assist you when searching for your perfect outfit. Team up with our carefully selected accessories to complete your look.
Stockists for Black tie dresses, cocktail and evening dresses, PROM dresses, chic pencil dresses, day to evening dresses with matching jackets, skirts, trousers, tops, jumpers, gillets, ponchos, bags, belts, crystal evening shoes, crystal jewellery, hats and hair fascinators. We have a small selection of less formal bridal dresses and bridal SHOES. There is something for everyone! Sizes stocked from UK6 to UK18 for all shapes from slim to super curvy girls.
In house b
eauty treatments
by Louise of Tranquility, text for bookings on 07881 620281
PRE-OWNED: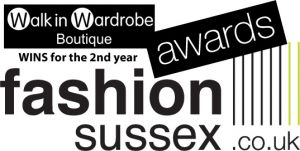 We take pre-owned NEW and NEARLY NEW designer items (including vintage items) for resale in our downstairs showroom.
Once sold, you receive 50% OF THE SELLING PRICE. Don't forget you can bring back your pre-owned nearly new items previously purchased from Walk in Wardrobe.
Terms and Conditions for Walk in Wardrobe Acting as Agents for the sale of pre-owned items:
Garments are accepted for resale at the discretion of Walk in Wardrobe. Garments must be cleaned and in excellent condition with no damage. Proof of authenticity will be required on top designer bags such as Louie Vitton and Chanel.
The customer will receive 50% from the sale. Payments will be sent directly to the customer via bank transfer. Please contact the boutique quoting your invoice number to check if your item/s have sold.
Items will be automatically reduced after one month. After three months items not sold or collected may be withdrawn and given to charity.
Whilst every care is taken, Walk in Wardrobe accepts no responsibility for items left at the boutique and all items are left at the owner's own risk.

.
Quoted in the national press (Sunday Express) as the "Swankiest boutique in Brighton". We are proud to be the Winner of Best place to shop in Sussex for two years running. We stock labels from Uk, Europe and around the world.