AW14 is just around the corner and we're so excited we just can't keep our Autumn/Winter lines to ourselves!  The AW14 catwalks are positively awash with tactile textiles, bold colours, colourful, modern prints and asymmetric designs.  At Walk in Wardrobe we have been busily sourcing our favourite AW14 collections and putting together our lookbook for the upcoming fashion season.  Here are just a few items from our favourite trends we will either be getting very soon, or have just landed in at the boutique!
Arty Prints
Arty prints are in with a bang next season with stunning, colourful prints adorning the catwalk.  The dress pictured left is from one of our brand new labels at the boutique and is a perfect blend of fresh, colourful prints with enough of an autumnal edge to make the outfits feel not too summery.  Long sleeved dresses such as this one are also perfect for the Autumn when the sunshine hides from us a little bit, but there is still a comfortable level of heat.  Long sleeves also have the advantage of hiding the arms (if that is a concern for you) and they look chic, sophisticated and utterly fabulous!  This particular dress has the added advantage of streamlining panels down the sides to give you a great shape around the hips.
The key thing to remember with this trend is that bold is better, so this gives you the leeway to go wild and express yourself!
Chunky Zips
Next season, don't be afraid to show some teeth (naturally I am talking about the teeth on zips!).  Zips obviously have a very functional aspect to them (can you imagine a world where they hadn't been invented?), but for AW14, they are taking on a much more decorative role and appeared all over the place on the catwalks.
Zips are often associated with grunge fashion, stemming from the punk era, but we feel that there is no reason why this AW14 trend can't have a touch of femininity too!  This top pictured right has a lovely little feature front zip where the skirt has a full length feature zip going up the centre of the back.  It is made out of clever, award winning stretch fabric which moulds to the contours of your figure.  The gorgeous, girly lace cut out lace trim keeps the outfit ladylike whilst keeping a slight edginess with chunky zips.  This outfit also comes in black which makes it perfect for the wintery months.
Cobalt Blue
Cobalt blue has been a staple amongst AW collections for a few years now, and for this AW14, it shows no signs of going away any time soon (thankfully!).  Cobalt blue is bright, punchy yet not too light for autumn and winter.  The other fabulous thing about going for this colour is that you can mix it up with the other key fashion trend for the season – neon.  Couple this gorgeous dress with bright yellow or even bright pink for a modern twist on an 80's favourite (yes, it IS possible to have a touch of the 80's without donning those MC Hammer pants and still be modern, classy and high end!)
This cobalt blue pencil dress pictured left gives women a gorgeous shape whilst adding a touch of sexiness with the front split and it's fitted shape.  This dress is an absolute boon if you have issues with your tummy, the clever rouching across the midriff area means that you can hide any unwanted lumps whilst still remaining in a figure hugging, classic and shapely dress.
Leopard Print
I would like to finish up with my own personal favourite for AW14 – leopard print.  I have often been berated for my enduring love for leopard print as many people believe that leopard print can look trashy.  However, whilst I firmly believe that an overkill on leopard print can look trashy, you can also wear leopard print and look classy, remember that it's HOW you wear it!  I strongly advise that you incorporate leopard print into your wardrobes for next season as it was placed at the forefront of the AW14 catwalks earlier this year.  If leopard print is good enough for Balmain, it's most certainly good enough for me.
This absolutely gorgeous leopard print jumper pictured to the right is super soft and light weight, perfect for the transitional period between summer and autumn.  It has the bonus of super-fashionable batwings on the sleeves and also a sprinkling of darling little crystals on the leopards head on the front.  This is a long jumper so looks great with black leggings or black PVC leggings.
We would love to hear from you about how you will be wearing the fashion trends above, so make sure you leave a comment below to let us know what you will be wearing this autumn/winter.
Before I start this blog post I would like you to ask yourself one question:  what exactly is it that YOU think makes a woman beautiful?  Is it long legs?  Is it a woman who is a size 6?  Is it a tiny waist?  I'm sure that if I asked 100 women I would get at least 50 different answers, which leads me to believe that what is beautiful is completely subjective to the individual.  As I have not actually asked 100 women, the only thing I will be able to share with you is my own opinion of what makes a woman beautiful, which is confidence in how a woman carries herself.  I have clocked up many years in the fashion industry and have fitted women of all different shapes and sizes.  I have found that certain figures look good in everything, but there are very very few women who actually look GREAT in everything (big difference!).  I remember many years ago fitting a lady who was very under confident about her body shape.  She was a size 18, broad and nearly 6ft tall and felt most comfortable in loose fitting clothing as she wanted to hide her figure.  When she came in to see me at the boutique the first thing she said to me was 'I'm sure you don't have anything which will fit me, but I just wanted to check as I have my friend's wedding to attend and I don't know what to wear'.  When I produced a fitted dress she had a look of horror in her eyes and simply said 'I couldn't possibly wear that!'.  I put the dress back on the rail and we selected a few more dresses she felt she would be more comfortable in.  After trying them on with no joy I went back over to the rail and pulled 'that dress' out again and asked her to 'just give it a go'.  She begrudgingly agreed and lo and behold, it was as if an entirely different woman had just stepped out of the changing rooms!  She looked fabulous and confident in her fitted dress which showed off the smallest part of her figure – her waist, and emphasised her fantastic hourglass shape.  Ladies, we have to work with what we have been given, and if you are a curvy lady, don't hide your figure in loose clothing, just find the right style of dresses and outfits to suit your unique shape.
At Walk in Wardrobe we have been working very hard on a line of outfits and dresses specifically to suit ladies with a curvy figure, I would like to share a selection of my personal favourites with you now: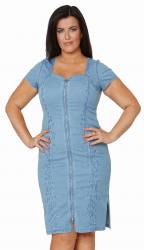 I simply love this stretch denim dress on curvy ladies.  The neckline is accommodating for a fuller bust without being too low cut, so you can feel chic and classy.  The placement of the embroidery is extremely clever on this dress, following the flow of a woman's figure vertically to visually break up the fabric.  A few little sparkles scattered about here and there adds a touch of glitz to this fabulous day dress.  The stretch denim of this dress hugs curves perfectly, and moulds to the contours of your figure, ensuring that the dress looks just as good from behind as it does from the front (a very important factor when purchasing a dress!).  This dress looks great with a nice pair of oversized sunglasses and tan accessories.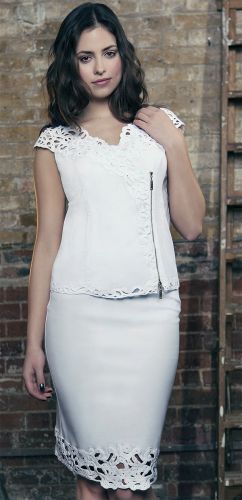 If separates are more your thing, how about this gorgeous lace top and matching skirt (pictured right, also available in black)?  Once again, this outfit is made from that very clever stretch fabric which moulds to the figure, showing off your curves.  The asymmetric zip on the top adds a nice bit of detail to break up the white and the darling lace cut outs add a touch of femininity and interest as well as giving the top part of your arms a bit of coverage.  The matching skirt (sold separately) has a feature zip back and matching lace trim.  This outfit has scatterings of lovely little swarovski stones, making it a perfect day to evening outfit.  None other than Kate Middleton was spotted in a white outfit with lace sleeves and trim, well, if it's good enough for Kate, it's certainly good enough for me!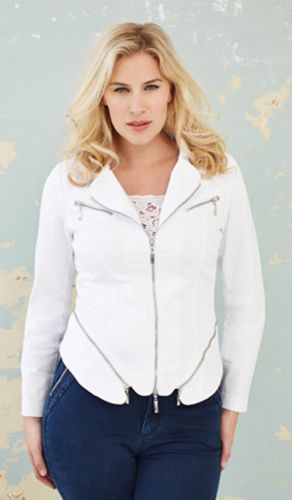 I am aware that curvy girls can find it difficult to find a well fitting jacket, they tend to fit at the bust and be ill fitting at the waist or vice versa.  Once again, we have identified this as a problem and have worked very hard to source jackets which are stretchy enough to accommodate ladies who have a different sized bust to their waists.  Big success, they do actually exist!  These fabulous jackets look modern, funky and flattering on curvy ladies, with none of that worry of an badly fitting bust or waist, simply zip up and go!  Features of this jacket include zips going diagonally from waist to hips to enhance the shape of the smallest part of your body.
NB.  The products above are by no means all we have in stock for the curvy lady, we have a full and fabulous range in our curvy section.  If you have any queries regarding our curvy girl range or would like further information please leave a comment below or contact the boutique on 01273 775583, or email us at office@walk-in-wardrobe.co.uk
Curvy girls, you look fabulous, love the way dresses and outfits hug your curves and most importantly, don't be shy about your figure!
Going out to work for the first time can be very daunting for many young people, however my week in the hands of Katie and Leah from Walk in Wardrobe has demolished all those worries. My name is Imogen Smith, 15, from Longhill High school and I have been working at Walk in Wardrobe as part of my work experience. As I am interested in fashion and the world of retail I thought this would be the perfect place to spend a week off school.
I have learnt a lot in the past week; from how to sew on a hook and eye, to how to keep a business going in these tough times. However, the main thing Katie and Leah taught me was about customer service and how to give a personal shopping experience. With their warm personalities and expert knowledge of their industry, they are able to offer help and guidance for customers to find an entire outfit: dress and all accessories.  At Walk in Wardrobe, Katie and Leah will be able to find the perfect outfit for you to go to the races, a wedding, prom etc.  They have recently expanded their daywear section so they can also help you select the perfect outfit for the day.
You hear all sorts of rumours about work experience and how the employers restrict you from doing anything, but my employers were determined to make my experience the best possible. They have shown me the ways of a business and the importance of reputation in business, that making friendships with customers and clients can build up your customer base.  They also found it was important to them to give me an opportunity, even when they didn't have to; proving they go out of their way to do what they can to help.
The boutique also has a beauty therapist, Louise, who works downstairs at Tranquilty.  Not only does Walk in Wardrobe benefit from Louise bringing new customers to the boutique, but Louise also benefits from the boutique sending customers to her for beauty treatments.  Fashion and beauty work very well together and brings a new, more personal touch to the business. Another aspect that I love about the boutique is that you can hire most items which allows customers to find new outfits for special occasions and not have the problem of not wearing them again and at the same time you won't be breaking the bank!
Overall I feel that I have had a full experience of what the industry is like. I have found that hoovering and cleaning is only normal but also helping someone find their next new favourite is all part of the job; therefore I have experienced it all. I am extremely thankful to Katie for allowing me to help her (I hope) for the week, additionally Leah both for giving me such a happy, exciting and helpful week. But to conclude, over the past week I have found that I now know exactly where I shall be getting my prom dress and other outfits for all kinds of occasions, because why would I want to go anywhere else? Especially when I know I can get the best clothes at the best prices with the best quality and above all the best look!
The versatile little gem also known as the maxi dress is simply a summer must if you are going on holiday, are out for the evening, or even if you're going out shopping for the day.  In short, you can wear your maxi dress to pretty much anything!  So why are maxi dresses so popular?  The answer is simply because they are low maintenance, comfortable, feminine, easy to accessorise and they can take you through right from day to night.   For many years, I believed that my 5ft 2, petite frame would render it impossible for me to be able to pull off a maxi dress as I believed that they would swamp me and make me look even shorter.  At the boutique we have dealt with many other ladies who also have the misconception that a maxi dress will only suit a lady who is tall, willowy and lean.  Whilst this is true of certain styles, there is no reason why a petite lady or a fuller lady should fear the maxi dress, the trick is to just find 'your' maxi dress.

Maxi dresses for short women
If you have a a small, petite frame, it doesn't mean that you have to avoid a maxi dress.  It is true that maxi dresses with oodles of fabric will swamp a small frame and you do have to be a little careful if you are a petite lady and you are going out maxi dress hunting.  I have found that an empire line can give the illusion of a longer leg and also a body con style maxi can look great on a petite lady as it gives the figure a bit of definition.  A V-neck also elongates the figure, so small ladies should definitely opt for this style of neckline.
Maxi dresses for the fuller figure
Maxi dresses are great for slimming down the lower half of the body whilst still maintaining a much desired, curvy shape, so maxis can look fantastic on a fuller figure.  As with petite women, curvy girls can go for a simple empire line dress (but make sure there is not too much embellishment on the bust line) like the one pictured on the left.  An empire line has the benefit of having floaty fabrics around the waist line so it can hide any problem areas.
Maxi dresses for ladies with a big bust
If you are concerned about your bust area and/or are a bit top heavy, maxi dresses are particularly flattering for you as a loose dress hides smaller hips and balances you out.  I have found that women with a fuller bust look fabulous in a dress with a v-neck, like this maxi pictured.  It's also fabulous because of the fact that you can comfortably wear a bra with it.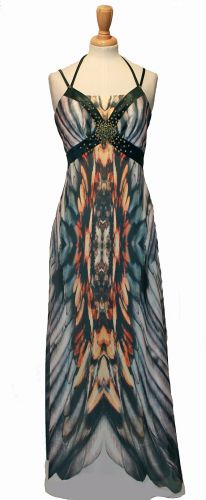 Maxi dresses for the pear shape
If you are a lady with fuller hips and a smaller bust, the trick is to find a maxi dress with an embellished top to draw attention to the top and keep the eyes away from the hips like the chiffon maxi pictured on the right.  This particular maxi has a lot of definition around the bust, and falls gently to a softly flared skirt, which will glance over a larger hip.

Maxi dresses for ladies with a boyish figure
Ladies with a boyish figure are rather lucky when it comes to the maxi dress as the majority of styles will suit a lean, willowy frame.  However, I have found that a cinch in the waist is very flattering on a boyish figure as it gives the illusion of a curvier shape.
Accessories to go with a maxi dress
Maxi dresses tend to speak for themselves, especially if they have a print on them, so don't overload yourself with accessories.  Personally, I love boho bangles, earrings and flat sandals with maxi dresses, and if you are going for a plain maxi dress, just add a necklace and you're ready to go!  If you are taking your maxi dress out on a night out, glam the look up with a few sparkly accessories.
If you have a specific question for a member of our styling team, why not tweet to us @walkinwardrobe with the hashtag #askwalkinwardrobe
On Wednesday 2nd April we hosted an unforgettable fashion event to launch our brand new day wear collection at the boutique.  The event was held across the road from the boutique at the Hove Kitchen, and as we like to mix fashion and charity, the proceeds of this event went to Rockinghorse and the Martlets.  Guests were welcomed to the event with the wonderfully smooth sounds of the Frank Sinatra style singer, David Williams and a glass of bubbles.  Guests were then able to enjoy Cream Tea and sandwiches and scones made by the Hove Kitchen.  Alongside the fashion show we held a charity raffle with a fabulous selection of prizes from local businesses such as the Hilton Brighton Metropole, I-bar, La Cave a Fromage, Chocoholly, Willsmer  Wagg, the Naked Eye Gallery, Nadia's Vintage, Florian and Tranquility.
A few words from the proprietor Katherine Tanswell:  'It was a pleasure to organise this glitzy event with celebrity stylist Carol Ives and we would like to say a big thank you to everyone who came to the event and to the generosity our guests showed that night.  We would like also to extend our thanks to the local businesses who donated prizes for the raffle.  As you may be aware, both myself and Carol are embarking on a sponsored walk along the Great Wall of China in aid of Rockinghorse which will be a real physical challenge to us, so it was great to be able to have a light hearted event in amongst all the training we have been doing!'
A huge thank you to our models who gave up their time to do the fashion show, and thank you to Cove Hair in Brighton for doing such a fantastic job on the models hair and thank you also to Tranquility for the glamorous makeup!
Katherine's Just Giving China Walk page can be found here: www.justgiving.com/Katherine-chinaWall, Carol's can be found here: www.justgiving.com/ivesstyle
Our next charity event is on Wednesday 7th May at 5.30pm at the boutique, where we will be joining forces with Janine from Sassy Style and Tranquility for a One Stop Style and Shop.  At this event Janine will show you what style of outfits and which colours will suit you and Louise of Tranquility will be on hand to give you make up tips and how to keep your face looking fresh.  Tickets are just £15, please contact the boutique or Janine on 07557818103 to book.  We look forward to seeing you there, but for now, enjoy a few photos of our Cream Tea Event….
*all photos by Hannah of Instant Forever
Time waits for no one, and we have noticed that some of our customers always seem like they have to race against the clock in their busy lives, juggling work, special events (such as weddings) and social events.  At Walk in Wardrobe we are seeking to make your lives just a little bit easier in providing dresses for the day time which will carry you on into the evening time – no more having to dash home to change after work for your evening cocktail event!
Our new day wear range contains day dresses, tops, skirts and jackets to ensure that you look tip top and stylish when you are out and about, and they are chic enough to ensure that you are looking your absolute best when you go on to your event in the evening.  The trick with jam packed social days is to be prepared – pack some twinkly earrings into your bag with a glitzy bangle and add them to your ensemble once your day event is done (adding a touch of instant glamour!).  Don't forget to bring a small makeup bag to refresh your make-up and some extra Kohl for a glam evening look.
I couldn't begin to explain my excitement when this dress (pictured left) arrived at the boutique.  This Italian desk to dinner dress is a particularly streamlining dress with it's clever panelling and fitted shape.  These simple, elegant colours give you an air of sophistication whilst maintaining a modern look.
A couple of ways to wear this dress:  
In the office – I simply love the idea of wearing this classic dress at the office and I would personally put a little bit of a 1960's stamp on this dress and wear it with a few simple black accessories such as black heels, a chunky black bangle and some big black stud earrings.  If you wanted to (and had the time to in the mornings), a beehive updo would really complete the whole look – voila!  A classic 1960's pencil dress ensemble with a modern twist!
In the evening  – Due to the neutral colours in this clever little dress, it is easy to swap over your office jewellery for something more glamorous in the evening.  After work is done simply swap your black accessories for accessories which are gold in colour and whip on some nude heels – this instantly lightens the outfit and gives you a very different look!  If you want to stick with black accessories, just add a sprinkling of glitz into the accessories, such as one of our black sparkly bangles, and you're ready to go off and enjoy a few cocktails after work.
This darling little shift dress from Dimare (pictured right) quickly won a place in my heart as one of my favourite dresses we have ever had at the boutique.  With it's delicate chain and rose embellishment with Swarovski crystal stones at the neckline it's a real winner if you are going to a wedding and is especially appropriate for a spring wedding with it's pale pink rose print.  The back of this dress has a gorgeous deep V with a matching chiffon rose back panel and a beautiful little cascade of frills, after all, the back is just as important as the front!
A couple of ways to wear this dress
For a day event – there is quite a lot going on with this dress, so if you are wearing this dress as a wedding guest, stick to minimal accessories.  Don't worry about wearing a necklace with this embellished neckline as there is a danger that the neckline will look too busy, feel free to opt for a gold coloured, delicate chain bracelet to match the chain on the neck and go for some gold earring studs.  Naturally, add a hat or a fascinator in a neutral tone or in a pale, shell pink to compliment the rose print.  As this dress is so delicate in colour we suggest that you opt for pale beige heels, or if you are going to be walking on grass, some beige wedges (wedges have the dual advantage of being modern and also practical as they are brilliant if you want to avoid that 'sinking' feeling!).
For an evening event – in the evening, take the accessories up a slight notch, stick with the nude heels or wedges and add some delicate gold dangly earrings with some sparkly Swarovski crystals to match the stones on the neckline and add a sparkle bracelet.  I would recommend mixing our rose crystal mini bangle with a gold band.
These examples are a mere snippet of the day wear dresses we currently have at the boutique, and we are always adding more!  To shop the full collection visit our website here.
If you want to have a daring peep of thigh with your dress you would certainly be in good company as celebrities such as Paloma Faith, Angelina Jolie and Jenny from the block (aka J-Lo) have all been spotted recently sporting high split dresses. These thigh bearing dresses come in a variety of styles but by far my favourite is the high split long dress – it's elegant and classy but still has that 'a little bit sexy' look with a slight tease of thigh. However, with all dresses which show off a lot of one part of the body, you have to be careful on how you wear this style as you don't want to end up looking tacky.  Here are some helpful tips to make sure you fall into the latter category:
1. If you are going for a split dress where the split doesn't go up too high, feel free to go for a lower neckline. However, if you are going for a really high split, go for a higher neckline to ensure that there isn't too much on show.
2. At least one of your legs are going to be on show in this style of dress, so make sure that you go for some really glamorous shoes.  Flats are just not going to cut it with these dresses, instead, opt for a fabulous pair of open heels or wedges.  If you go for a fully closed shoe you will run the danger of making your feet look a bit too heavy – the trick is to keep it delicate.
3. Pictures are bound to be taken, so make sure you practise how you intend to pose in front of the mirror before you go out. Avoid just sticking your leg straight out of the split to the side, instead opt for a stance like our models below, where you peep the leg slightly through the split and place your foot delicately on the floor – this is why you need a splendid pair of heels or wedges!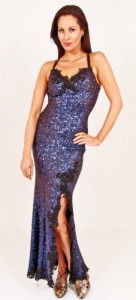 This stunningly gorgeous full sequin, midnight blue fishtail high split dress (pictured right) with black lace trim is an absolute knock out and is guaranteed to get heads turning at your function.  This dress is also in stock in bright red for a very Jessica Rabbit look.  A fishtail dress suits many body shapes and is the perfect dress if you want to show off your curves!  Available to hire at £135, or to buy for £489.99.  The model pictured is showing you the perfect way to pose in a high split dress.

If a fishtail mermaid dress is not for you, how about this floaty black one shoulder Grecian style black dress?  This is a real celebrity dress and has been spotted on the likes of Lucy Mecklenburgh of TOWIE on the red carpet.  This dress offers a classic style with a modern twist with a slightly daring cutout and a thigh high split.  With figure flattering ruching at the stomach area, it is the perfect dress if you are concerned about your midriff.  Available to hire for £75 or to buy in sale at just £159.99 (reduced from £195!).

For something completely different and unique, we also have a beautiful and elegant satin fishtail dress with train with delicate peacock embroidery and a scattering of sparkly beading.  This classic, figure hugging dress is available at the boutique in blue for hire at £75 or to buy at sale price at £139.99 (reduced from £249.99!)
If you have any questions for our team of stylists why not tweet to us – @walkinwardrobe #askwalkinwardrobe
The high low dress has also been aptly named the asymmetric dress, the mullet dress, and, if you're really really funky, the hi-lo dress.  Regardless of what you call it or how you spell it, the one thing that is agreed is that these dresses are burning up the red carpet and are set to be a really big hot trend for prom 2014.
So what exactly is a high low dress?
Well, it's exactly as the name suggests: a combination of a long and short dress.  Although high low dresses have been around for a few years now, each year they have increased in popularity.  At the recent Golden Globe Awards ceremony, celebrities such as Sandra Bullock were spotted wearing glamorous high low hems, so if you do decided to sport a high low hem dress to prom, you will certainly be in good company!
What's so good about a high low dress?
The first great thing about the high low dress is the drama and impact of having a long back skirt wafting and billowing about behind you, making you look every inch the Hollywood starlet!  With their long and elegant back skirts and shorter front hems these dresses are particularly suited to young ladies attending their prom night as these dresses simply scream 'I look elegant, classy, grown-up and sophisticated, but I'm young and sassy too!'
If you have read my posts before, you are probably aware that I am slightly challenged in the height department, and so I can feel a little swamped in long dresses sometimes.  The high low dress really has been a fantastic alternative for me, giving me the chance to enjoy the full on glamour of wearing a long evening dress whilst retaining the style I feel most comfortable in – a short dress.  The high low dress also gives me the chance to show off my pins and a fabulous pair of shoes, as well as giving me the opportunity to dance the night away in comfort (heel height permitting!) and style.
Designers have twigged on the increase in demand of high low hems, and have come up with many fabulous ways to incorporate a wide range of fabrics such as taffeta, chiffon and contrasting coloured lining for the back skirts.  These fabrics come in a gorgeous array of colours, animal prints etc and many have been jazzed up with sparkles, sequins, bows and ruffles!  Here's a little peek of some of the styles we have in stock:
I can confirm to you that pastel colours are in again for the prom season, and you can expect to see at prom plenty of champagne, mint green and sorbet coloured dresses.  This gorgeous chiffon floaty high low hem prom dress (pictured left) is simply stunning and, being lemon yellow, fits in perfectly with the summer colour scheme. This dress has darling shimmery rhinestones along the neckline and a low back.  Simple, elegant iridescent jewellery are a perfect match with this dress.
If you want something really jazzy and sparkly, this head-turning silver sequin high low dress (pictured right) by Dynasty is the one for you!  This dazzling dress has whimsical organza skirts over it's short, sequinned under dress and boasts a fabulously waist cinching band to give you a stunning shape.  Don't be tempted to over accessorize this dress, keep everything simple and let this dress do all the talking!
If animal print is your thing then why not try this stunning leopard print high low corset dress by Forever Unique?  This dress is the ultimate in modern style with it's body con mini dress top half and long flowing chiffons skirts behind.  This dress looks fantastic with neutral accessories such as black, silver and gold.
This beautiful high low hem taffeta dress (pictured right) is glamorous, fun and flirty with it's contrasting blue colour lining to the underskirt.  The bodice on this dress is fully structured and comes down a little lower than other high low hem dresses, giving it more of a mermaid shape than the others.  This dress looks stunning with black shoes and accents of blue accessories such as our blue mini bangles.
The women's clothing sale is continuing into 2014 at the most crazy knock down prices!  Dresses in our sale start from just £30, so it might be possible for you to add accessories to your party dress all for under £100!  Here are some of our top picks from our bargain sale: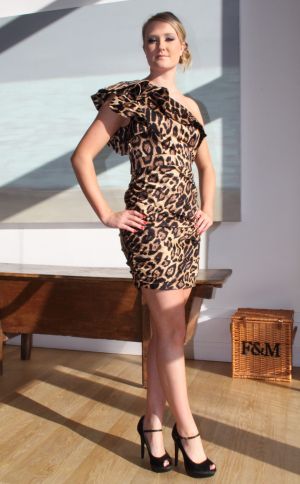 Leopard print one shoulder mini cocktail dress by Forever Unique – buy for just £50
Anyone who has been following my posts will be well aware that I am partial to leopard print, and this gorgeous little dress is an absolute steal at just £50 by renowned, celebrity endorsed label, Forever Unique.
This dress looks fabulous with a killer pair of black heels and black accessories and is the perfect dress for an evening out or ladies day at the races.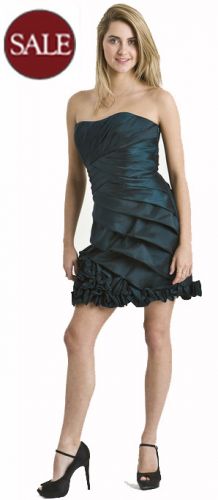 Hunter green mini prom dress – buy for just £29.99!
Not many young ladies will be able to say that they found their prom dress for £29.99, but we are pleased to confirm that such an opportunity is perfectly plausible at our boutique!  This stunning little mini dress has darling ruffles at the bottom and figure flattering ruching which will give a great shape.
This dress looks lovely with silver accessories which will really pop against the dark green.  Although many girls and mothers of prom girls wonder whether short dresses are acceptable for prom, I can confirm that short dresses can look just as sophisticated and elegant, and are a perfect way of ensuring that your daughter can dance the night away in comfort and style!

One shoulder burgundy bridesmaid dress – buy for just £59.99!
We are well aware that weddings can be quite expensive affairs, but just because you are on a budget doesn't mean that your wedding wont be a beautiful day to remember.  Any savvy bride will know that a few tweeks here and there can save a few pennies (and we all know that pennies make pounds!).  For example, your bridesmaid can look absolutely stunning and elegant in this one shoulder maroon bridesmaid dress with puddle train.  This dress gives a stunning shape with it's fitted bodice and is a must for any bridesmaid who is part of a whimsical, fairytale wedding.
Whatever occasion you are attending, we are confident that you will be able to find your perfect outfit at our boutique, and the current sale prices, you may even be able to buy TWO perfect outfits!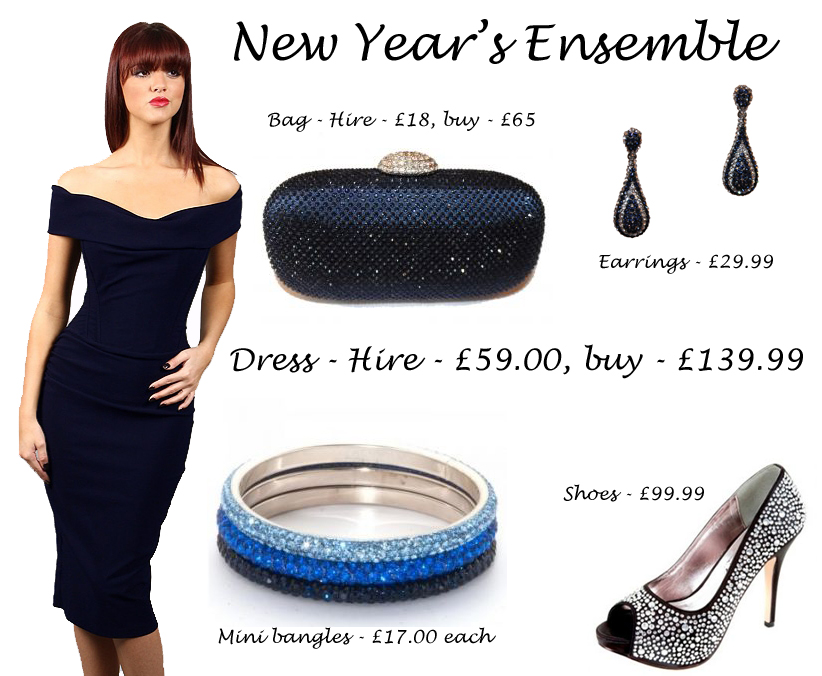 The boutique has been positively bursting at the seams with customers who are busily organising themselves for their Christmas and New Year's Eve parties, and we've had great fun helping them choose their accessories and dresses for their events.  This blissful little collection is perfect for a New Year's Eve party and will have you looking classy and sophisticated as you twinkle and dance your way into 2014!