I have been really impressed this year at how organised the 2014 prom girls are!  We had our first one at the boutique early last month, and have had several since then.  Although some mums coyly say to me when entering the boutique: 'we're looking at prom dresses, but we're a bit early', I think it's extremely sensible, just like a bride, a prom girl KNOWS when she has found her dress and it matters not a jot that she has found it months in advance.  Another reason to start early is that we never release the same dress to the same function, so make sure that your daughter gets first dibs on her dress for prom!
Nowadays there are so many different styles available, and there appears to be much less restriction on what is acceptable than before, so you could wear long or short, long and short, full on ball gown, or subtle and elegant.  However, we are well aware that although the increase in styles means more variety, it can also make the decision even harder and more intimidating, especially if you are a young lady who is not used to wearing formal attire.  The aim of this blog post is to give a little direction to prom girls who are starting out their research into which prom dress to wear on prom night.
The first golden question you should be asking is 'what style of prom dress will suit me?'.  It is all well and good having your heart set on a particular style, but if it does nothing for you, you won't feel comfortable on the big night and you will spend the whole evening feeling self-conscious and doing your best to hide in the shadows.  I recommend getting out a piece of paper and writing down what body shape you have, try to be as honest and objective as you can.  Remember that what you see in the mirror isn't necessarily the same as what everyone else sees, so mum, dad, sisters or any other close family members are usually very helpful and will give honest opinions on your shape.  Try not to take anything they say too personally, after all, they only want you to look your best on prom night!  After you have established what kind of shape you are, pick out your body features you wish to show off and write them down.  Lastly, write down the body features you wish to hide.
In order to help you decide what prom dress style would suit you, I have pulled together the key prom dress styles with a general guide on what body shape would suit, so you can concentrate on the most important thing when choosing your prom dress: having fun!
Ball gown prom dresses
Ball gown prom dresses are traditional, or 'classic' prom dresses, and are the perfect way to achieve that fairy tale princess look.  With their full, flared skirts and their fitted bodices, there are not really many body shapes which don't suit this style.  If you are a curvy girl, they are a great way of showing off a cinched in waist, or if you don't have much of a waist, they are great at giving the illusion of a  waist.  If you are pear shaped or are concerned about the bottom half of your figure, this dress emphasises the waist and completely hides your bottom half.  The only body shape which might slightly struggle in this style is if you are very small and petite as you can look swamped by the skirts.  If you fall into this category but you still want that fairytale look, opt for an a-line dress instead as it still gives you a full skirt, and maximises the chance of you wearing the dress but minimises the risk of the dress wearing you!
Mermaid prom dresses
These dresses are also known as fishtail prom dresses or trumpet prom dresses.  The mermaid prom dress typically has a figure hugging fitted bodice that goes right the way down to the mid-thigh and then flares out to give the illusion of a mermaid's tail.  These dresses look great on prom girls who have a hourglass shape (i.e. who are well balanced at the bust and hips with a proportionately smaller waist).  If you have more of a boyish figure, this style of dress will probably emphasise the straightness of your figure and will probably not show your body off in the best way.  These dresses tend to fit very closely to the body and will give a true silhouette of your body shape, so if you are a bit shy about your body, it's probably best to stay away from this style.
Empire line prom dresses
These dresses have a high waistline with the skirt gently falling from under the bust.  They tend to be made out of a light, floaty fabric such as chiffon which falls elegantly to the floor.  This style of prom dress works well on most body shapes and is probably one of the most forgiving styles.  It also makes a great plus size style.  They are fabulous if you are concerned about showing off your mid-section, providing you with a bit of extra coverage, whilst still giving you the ability to achieve that whimsical, elegant look.  At the other end of the spectrum, they also make great dresses for girls who have a less defined waist, or a 'boyish shape' as they don't emphasise the waist and drape graciously to the floor.
Mullet prom dress
These dresses are also known as high low hem dresses.  These dresses come in a variety of styles, e.g. fitted down to the thigh, fitted to the waist or empire line.  It's a fantastic alternative to a full length gown and is absolutely brilliant if you (like me!) are a little vertically challenged as you won't have to worry about having the hem shortened or tripping over a long dress at prom!  If your legs are the feature that you want to show off, but you still like the idea of having a long prom dress, this could well be the option for you.  Make sure that you team up this style of dress with a fabulous pair of shoes, but if you are going for a pair of peep toes, make sure that your feet are in tip top condition and that you go and get yourself a good pedicure beforehand!
Once you are aware of what shape you are, the process of prom dress shopping changes from being stressful to being exactly what it should be – fun!  Remember that it's not every day you get to wear a glamorous dress, so I recommend taking full advantage while you can and seek out a really special dress.  This is definitely one of those times when high street just will not do!
If you require any further help regarding what style is best suited to your shape, feel free to leave us a comment below, facebook us at Walk in Wardrobe Brighton or tweet us @walkinwardrobe
This week witnessed the opening of the brand new Adur Ferry Bridge on the South Coast.  This event was filled with royalty, fireworks and of course thousands of people doing the conga over the bridge!  Katherine Tanswell, proprietor of Walk in Wardrobe was thrilled to be able to attend this massive event in Shoreham and to join in with the conga fun wearing a glamorous dress from Walk in Wardrobe before relaxing and watching the fireworks.
Whilst some people shudder at the mere mention of 'Christmas', the Christmas season for me is by far one of my favourite times of the year for so many reasons – the cosy darkness, the smell of spicy mulled wine in the air, the fairy lights and of course, the Christmas parties!  For me, the winter season is the most glamorous time of the year, the sparkles on dresses are emphasised by the twinkling Christmas lights, I can glam up red carpet style with a faux fur wrap and pretend I'm a 1950's Hollywood starlet and I don't have to worry about my make-up getting messy under the hot rays of the sun.
We like to be prepared at the boutique and so have been busily collecting together Christmas party dresses and accessories for our customers.  In this post I would like to share a few tips and tricks on how to get yourself noticed under the mistletoe this year!
What dress shall I wear to a Christmas party?
This depends on so many factors.  Although black tie events are becoming more relaxed in their dress code, it's not everyday you get to wear a long dress, so at Christmas time, when the opportunity arises, I like to take full advantage of the situation!  This stunning long gown with long sleeves (pictured right) is perfect for a black or white tie Christmas event and perfect if you are a lady who hates her arms.  This dress has been worn by stunning celebrities, so it just goes to show you that arm coverage does not automatically mean 'dowdy'.  The full sequins give a perfect Christmassy effect, offering a subtle, elegant shimmer when you move, and it has the added bonus of that bit of extra coverage to ensure that you can keep the chill at bay.
If you are going to a more relaxed Christmas party e.g. a Christmas meal out with your work colleagues, a short dress is most likely going to be a better option.  This Vivian Westwood inspired, off the shoulder pencil dress (pictured left) is simple yet absolutely gorgeous.  As this dress bears little by way of embellishment, you can really go to town with the accessories and team it up with sparkly bracelets and a bag, and the low neckline means that you are able to wear a big, statement necklace.  As always, with a shorter dress, you have to make sure that your feet look just as good as the rest of you, so make sure that you have some twinkly shoes to complete your look (see below).
Are there any alternative outfit options to dresses?
Of course there are!  If you don't feel happy wearing a dress, don't wear one.  If you are wearing something that is ultimately not 'you', you wont feel confident and you'll only remember the Christmas party for feeling uncomfortable.  There are simply hundreds of sparkly Christmas outfits out there, it would be quite an achievement if you were unable to find one to suit you!  One of my favourites at the boutique at the moment is the hot pant suit (see below, right).  This unique and sparkly Cheryl Cole style suit is perfect for Christmas parties and that special Christmas night club event, ensuring that you look sassy yet classy whilst tearing up the dance floor!
If you still feel uncomfortable by the thought of a hot pant suit, one of our glamorous tops with a pair of skinny jeans or a pair of black pvc skinny trousers teamed with a pair of killer heels would be just the ticket for you.  Even if you are not wearing a dress, just remember that you can still be just as glam, just don't forget to accessorise appropriately to ensure that you still look twinkly and Christmassy!
What are the best colours to wear for winter parties?
Christmas party outfits are usually bold in colour as opposed to pastel colours.  The usual staple colours being red, black, navy, gold and silver.  However, don't feel restricted to these colours, I find that royal blue and purple serve equally well, just keep in mind that the watchword for winter parties this year is 'opulence'.  Providing your dress or outfit is rich in colour, you will look stylish and fashionable and bang on seasonal trend.  Regardless of what colour you choose, just make sure that you feel fabulous in it!
What accessories should I wear with my party dress?
Statement jewellery has never been more in than during this season.  Look out for dramatic chokers, dramatic earrings and bangles (a particular favourite of mine is currently the Indian inspired bracelet and ring sets).  A sparkly bag will finish off your ensemble nicely and will ensure that your emergency provisions such as your lipstick and chewing gum (for mistletoe purposes!) are kept safely in style.
Don't underestimate just how cold the midst of December can be, and make sure that you are not caught out at the end of the evening shivering whilst waiting for your taxi to take you home.  Instead, opt for one of our faux fur wraps to keep you feeling super warm and yet uber-glam!
What shoes should I wear to a Christmas party?
As I err on the slightly small side, I am partial to a pair of sparkly high heels for Christmas parties.  However, if you feel nervous about wearing skyscraper heels, stick to smaller heels which are equally as glamorous and you wont worry about wobbling around on heels at the party.  Don't think for a minute that party shoes are solely heels, celebrities such as Alexa Chung have really made flat shoes not only acceptable at parties, but also desirable.  Once again, the watchword is still 'opulence', and this opulence MUST spread right the way from the top of your head right down to your feet!  Bearing this in mind, I would just like to say that you should wear a style that you feel comfortable in, and think you can last the whole night in (without forgetting that dancing may be a part of the evening!), just make sure that there is plenty of bling!
Great, the outfit is sorted, but what about everything else?
Preparing the body before you get dressed up for your Christmas party is very important.  You can spend a few hours doing it yourself at home, but I have found that whilst I begin the process with much gusto, after a while I do find that the process can become quite tedious and I begin to cut corners.  Instead, I would opt to go to one of my favourite salons in Brighton and Hove, Tranquility in the City, based at Station Road.  At the salon I always feel like I'm in the hands of the professionals, and always come out glowing from top to toe, it really is the perfect place to get pampered before a big night out!  I personally recommend their manicures, my own favourite being gel nails with a leopard print minx wrap on the ring finger, the perfect finishing touch!  Beauty expert extraordinare and owner of the salon, Louise is always on hand to give you a professional makeover for your big night, her advice for the perfect Christmas make-up this season is: 'Two big trends for this xmas are glitter and using skin perfectors and primers to achieve a flawless look.  The first step to professional looking make-up is to prepare well.  Start with a really great skin perfecting primer and the rest of your make-up will glide on with ease and last all night!  We stock the award winning Vitage skin perfector at Tranquility, which is a primer and skin perfector in one and at just £25 will save you money on buying two products.  Once you have created your look, add glitter in a more grown up style by using a liquid glitter liner.  This can be used on the upper eyelid to add sparkle to your usual liner or underneath in the corner of the eye to create a flash of colour.'
Once the rest of you is sorted, don't forget that you will need to make sure that your hair looks perfect.  After seeing their work at our recent fashion show, we highly recommend the very swanky My Salon Looks based at Western Road, Hove for a great Christmas party hair do.  Their team of creative and artistic professionals really take the time to listen to you to make sure that your crowning glory goes perfectly with your outfit and suits your own individual look.
If budget is a factor for your Christmas outfit, don't forget that you can always hire your Christmas party dress instead of purchasing it, so you can look a million dollars for a fraction of the cost, meaning that you will have a bit more money for a few extra cocktails!
Whatever you decide on for your Christmas party, remember that Christmas isn't Christmas without twinkles and sparkles, so make sure that you dress to impress so you can shimmer the night away and be merry (it is Christmas after all!).
If you have a question for me that I haven't answered, why not tweet to us @walkinwardrobe with your question with the hashtag #askwalkinwardrobe
After several weeks organising our charity fashion evening and showing our AW13 collections in the boutique, we were thrilled to have such an over whelming turn out on the 29th October, everyone enjoyed the fashion extravaganza.  We aimed to make this fashion evening super glamorous and glitzy, and we are thrilled to report that our event was described by guests as 'Walk in Wardrobe's best fashion show to date, the atmosphere was buzzing!'.
Guests were entertained with live singer Aneesa Chaudhry, we enjoyed luxury canapés courtesy of La Cave Fromage, sparkling wine and goody bags with treats from us and My Salon Looks.  Alongside the fashion show was a charity raffle in aid of Chestnut Tree House with a fabulous selection of prizes from local businesses such as hair straighteners from My Salon Looks, a cheese and wine evening at La Cave a Fromage, a training session with MissFit, a massage from Tranquility in the City, luxury pillows from the Red Bed Co, a print from the Naked Eye Gallery and of course, a Victoria Beckham style pencil dress from Walk in Wardrobe.
A few words from the proprietor Katherine Tanswell: 'We were thrilled with the reception we had from the fashion show, we were packed to full capacity and really pleased with the generosity of our guests and raffle donors who showed massive support to both the boutique and the Chestnut Tree House Charity".
A huge thank you to our models who gave up their time to do the fashion show. We were lucky to have My Salon Looks create the models hair and SJE Make-up who gave the models glamorous and sparkly look for the show. Thank you to all our guests who attended the fashion evening, we look forward to seeing you at our next event! A comment from one guest was "we need a bigger boutique to get every one in!"
Always leave them wanting more is what we say.
*all photographs by Stuart Butcher
Now that summer has officially departed it's time to get that favourite fashion staple out of the wardrobe – the little black dress.  Prior to the 1920's, black dresses were only worn during times of mourning, and in those days, I'm sure that no one would of anticipated that black dresses would become such a fashion necessity.  The pioneer of the little black dress as a versatile, fashion must can be attributed to none other than Coco Chanel in the 1920's.  Since then, the little black dress has really stood the test of time, proving itself to be fashionably adaptable in the 1930's with the popularity of the black flapper dress, practical through the time of rationing in the 1940's where women could accessorise their black dress differently each time it was worn, and right through to the present day where designers have really pushed the design boundaries of the little black dress.  As a result, we have the little black dresses you see today which are as diverse as much as they are desired.  So why has the little black dress become such a classic?  The answer is simple – it's because it is slimming, you can mix it with any colour of accessories (and indeed can be mixed with any style of jewellery, be it fine jewellery or costume jewellery) and it's a colour which lends itself readily to any style of dress, so you will always be able to find a black dress which will suit your body shape!
At Walk in Wardrobe we know that the little black dress is a style which will NEVER go out of fashion, and this season we have sourced the most unique, imaginative and up-to-date black cocktail dresses, that if well looked after, could only be described as investment pieces.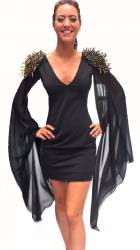 This long sleeve little black mini dress on the right is a real head turner with feature gold colour spiky shoulders and whimsical floaty sleeves.  The plunging neckline and short length adds a definite modern twist so you can remain sexy yet classy.  Due to the embellishments on this dress, accessories can be kept to a minimum, opt for simple dangly gold colour earrings and gold or black shoes.  Although I don't really recommend a necklace with this dress, if you really want to go for a necklace, choose something which is simple and not too busy or dramatic or it could potentially take away the effect of the feature shoulders.  This is the perfect little black dress if you want to make an impact on a night out.
For a simple yet effective black dress this two piece body con dress (pictured left) with mesh lace overlay and high neck has become a much loved, hot seller at the boutique.  This dress has a very simple bodycon slip with a very unique gold threaded mesh overlay with a high neck decorated in black petals.  The sparkly sequins scattered on the overlay twinkle slightly in the light without being too garish.  This dress looks fabulous with a pair of black shoes and gold accessories.  However, with this particular dress make sure that you're not going to OTT with the accessories and keep them elegant.
One thing's for sure, the little black dress is a craze that will never go away, and with so many different styles, it would truly be impossible not to be able to find the perfect black dress for you.
When our customers speak we listen, and what our customers said was that they wanted more designer quality, unique and affordable accessories – and we have certainly delivered!  I am well aware that finding the right accessories to go with your dress can be pretty hard work, but fortunately we have done all the hard work for you, and we have now expanded our jewellery section at the boutique, so you really can get kitted out under one roof regardless of whether you are looking for bridesmaid accessories, bridal and wedding accessories, accessories for prom or accessories for a night out with the girls.  These delectable little pieces of glamour also make perfect Christmas presents, and although Christmas is a couple of months away, there's no harm in being organised!  Below are my favourite picks of our new jewellery range, for more, have a little peek at the accessories section on our website.
Statement necklaces
My jaw definitely dropped when I saw this utterly gorgeous necklace, and it's probably my own personal favourite of all the statement necklaces.   The trick is with statement necklaces is to let the necklace do all the talking, and what I'm really getting at is to keep everything else very simple with your outfit.  Keep the rest of your jewellery simple, in particular the earrings (I find that sparkly stud earrings are the perfect accompaniment to this necklace).  Don't ever worry that your outfit may be too simple, the statement necklace will change your outfit from plain to show stopping.
If you are concerned that a statement necklace may be too uncomfortable to wear due to weight, think again.  This particular necklace is made out of long silver coloured chains and is dotted with twinkly crystals and is very lightweight, so you can feel comfortable whilst still looking utterly fabulous! This necklace stands out particularly well against a plain black dress, or if you are feeling particularly cheeky on holiday, over your favourite bikini!  When storing this necklace, use a padded hanger to minimise tangling.
Vintage style jewellery
The Great Gatsby film created a huge demand for vintage style accessories.  The key things to remember when choosing your vintage style accessories is to keep them glitzy, bold and opulent.  This vintage style black lace choker is the epitome of vintage style with it's starburst flowers and black jet glass beads.  This choker necklace looks great with a dress with a low, round neckline, a square neckline, or my personal favourite style of dress to wear with a choker, the strapless dress.  With this choker keep the dress fairly simple and match the choker with a matching cuff bracelet and some simple matching black earrings.
This vintage style cuff bracelet (left) is simply beautiful with it's intricate design and soft pink colours.  This cuff bracelet is delicate and is an absolute must if you are wearing a dress or top with 3/4 sleeves.  This particular bracelet is brilliant if you have tiny wrists due to the fact it opens and closes on a gentle clasp, so it can fit any size!
Of course, no vintage style outfit is complete until you have your glitzy hair accessories in.  These little bits of sparkle (pictured right) nestle subtly in your hair to give your crowning glory a bit of glamour.  These look very sophisticated if you are wearing an updo such as a bun or chignon.  The comb simply slots into your updo and secures into place, so you don't have to worry about losing these little gems.  If you are wearing your hair down, you can still use a hair comb, but it may need a few extras to hold it in position, kirby grips are great if you want a little extra security, but make sure you purchase clips which are the same colour as your hair and pop them in deeply so they remain hidden.
These accessories are just a few we have in stock at the moment, for our full range visit our accessories online here.
Don't forget that we are always here to answer your style queries, and if I haven't answered your question here, send a tweet to @walkinwardrobe and use the hashtag #askwalkinwardrobe
Blue has always been a particularly influential colour in the fashion world and it has often frequented the red carpet on celebrities such as Kate Middleton and Kylie Minogue.  So why has blue been a colour which has stood the test of time amongst fashionistas?  The answer is simple – blue is powerful, regal, commanding and uber-stunning!  Blue is also a fabulous colour due to it's versatility; being a colour where there are unquestionably hundreds of different shades, it would be truly impossible to be unable to find a hue of blue which suits you!
One question which has often cropped up is what accessories go with a blue dress?  One thing I would like to say is to make sure that you are not over-doing blue, a blue dress with tonnes of blue jewellery can render you looking rather smurf-like – a BIG fashion faux pas!  Instead, opt for a complimentary colour, as blue looks great with a variety of colours, you can be fairly flexible when it comes to accessories.
This gorgeously stunning full sequinned dress in midnight (or navy!) blue with black lace trim is gorgeous if you want to wear a dark colour to your event but you want something a little softer than black.  Features of the dress include adjustable straps at the back to ensure perfect fit with full support and a thigh high split for that sexy-but-classy look.  Being sparkly, this dress is pretty versatile when it comes to accessories.  You could compliment the dress and offset the black lace trim with some matching black accessories.  If you are going to go for black accessories make sure you stay away from anything too chunky, instead opt for black strappy sandals and delicate black crystal earrings and a bangle to keep in line with the elegance of the dress.  Another option with this dress is to wear silver sparkles to really bring out the shine of the sequins.  If you are going for silvery sparkles, make sure that you opt for delicate silver shoes accordingly.
This undeniably beautiful royal blue high neck backless dress (pictured right) is the perfect dress for a black tie event or prom.  With it's silver sparkly rhinestone neckline and back, there really is only one option for this dress when it comes to accessories – silver.  Couple this dress with glitzy silver shoes, a silver diamanté bangle and some diamanté twinkles in your ear lobes.  With this dress it's probably best to stay away from a necklace as it can make the neckline look too cluttered.  If you do want to wear a necklace, choose one with a thin chain and a very long drop and wear it in reverse so the drop cascades down your exposed back for a real top celebrity, red carpet look!
This dress is a really lovely desk to dinner dress, and due to the fact that it is plain (but beautifully cut!) you can really have a lot of fun with the accessories and really go over the top.  Quite simply, there are countless ways to accessorize this dress, if you are going out for the evening in this dress and want to look particularly glamorous, team it up with silver or gold sparkles and a pair of dramatic earrings.  However, if you are wearing this dress in the day time, I think this dress looks particularly funky with neon coloured accessories, in particular a bright pink.  If you do decide to go 80's neon with the accessories, choose chunky jewellery to make a real statement.
Do you have a question I haven't answered?  Tweet to me @walkinwardrobe with your question and hashtag #askwalkinwardrobe
After a short stint away from the boutique I am absolutely delighted to say that I am now back.  And just imagine my excitement on my return to see the boutique positively full to the brim with brand new sumptuous gowns with sequins galore!  As much as I will always adore full sequinned gowns, what has really held my interest is the batch of new printed party tops and cocktail dresses.  This season's catwalks have been overrun by geometric patterns and prints, and, on viewing the new collections from top designers such as Givenchy and Cavalli I can confirm that patterns and printed outfits are IN this season!
Party Tops
I do concede that it may not be wholly appropriate to go out to a semi-casual evening dinner donned in full on ball gown (as nice as the whole concept may be!), so a glamorous top with a nice skirt or pair of trousers means that you can still stay classy and chic in your more casual attire.
I adore this gorgeous long sleeved Versace inspired shirt (pictured left) made of satin and chiffon with tails.  This shirt utilises a modern mirror print technique perfectly and uses a vibrant colour spectrum of burnt oranges, ruby reds, shimmering golds, turquoises and my favourite – animal print.  The style of this top is so versatile and can be dressed up with a pencil skirt or pair of trousers, or you can dress it down with leggings or your favourite jeans.  With it's fantastic feature lace up back you can guarantee that you will have a perfect fit, even if (like me!) you are different sizes on different parts of your body!
Pictured right is a truly unique, whimsical, mystical printed top with unicorn and gorgeous little bling bling zebras.  This carefree, easy to wear modern top has a little bar across the back of the neck to ensure that you get none of that annoying 'slippage' from your shoulders.  This top looks fabulous when teamed with a pair of skinny jeans or black trousers.
Printed dresses
Printed dresses are also really in vogue this season, this particular mini dress to the left has uber-modern, ultra-cool features such as a mesh back and darling little studs around the shoulders.  This dress has all the opulence of fashionable prints and colours at the moment plus a bit of biker chic with the leatherette sleeve features, giving it a fresh, unique look and makes it the perfect dress to take you from day to evening.
This stunning Cavalli style knee length sleeved dress pictured right is a fabulous way of keeping in line with the current print fashion trend and it's sleeves are great if you are an arm hater!  Being more subtle in the colour department with it's earthy colour tones of golds and greens it reminds me somewhat of a Raphaelite painting, and, just like a Raphaelite painting, it is a true masterpiece.  This dress gives you a great figure hugging fit with it's super stretchy fabric and the low open back gives a touch of sexiness whilst still remaining classy.
Accessories to go with your new printed dress or top
With patterned outfits I usually suggest simple jewellery, however, I am prepared to do a complete U-turn with this fashion trend and recommend that you wear grand, statement pieces.  The opulence of this look screams out for some sumptious and regal jewellery.  Think chunky necklaces and bangles in golds and burnished coppers along with matching oversized earrings.
We are offering these distinctive, creative dresses and tops at super value prices to buy, or if you are on a budget, don't forget that you can also hire them for a fraction of the cost!
If you are looking at this blog post you are probably getting married, so the first thing we would like to say to you is 'Big Congratulations!'.  Choosing a wedding dress can be quite a daunting task and it can feel pretty overwhelming, so I'd like to give you a few pointers in how to approach the situation to make it a little easier, so you can concentrate on the most important thing when choosing your wedding dress: having fun!
Do your research
Before you hit the bridal stores have a little look on the internet to see what styles of dresses there are on offer.  There is a whole wealth of information on the World Wide Web which you can access for free, so take full advantage of Google image search and bridal discussion boards.  Put pen to paper and write a list of how you want your whole day to be.  Don't limit this list to 'the dress', instead consider all factors such as the venue, where your photographs will be taken, the season the wedding day falls into and most importantly, your personality.  By way of example, you could make a list with words such as: spring season, princess gown, fairy tale wedding, beach wedding, whimsical, grand, simple, vintage, etc.  Once you have finished your list you will probably have a much better idea of not only what kind of dress you would like for the day, but also how it will fit in with your whole wedding experience.
Decide on the shape of wedding dress you would like
At the boutique we like to have a good spread of different shapes and styles of wedding dresses so brides can experiment with what style will suit them best.  There are so many different styles to consider, so even if you are a bride who is particularly under confident with your figure, there simply MUST be a style which will suit you and will make you feel fabulous on the day.  Our friendly team of in-house stylists are always on hand to offer you advice, and as we have seen so many different types of figures in wedding dresses, we know which will suit you.
Ball gown wedding dresses
Ball gown wedding dresses are the perfect way to achieve that fairy tale princess look.  With their full, flared skirts and the usually fitted bodice suits most types of body shapes (but may be a bit too full on a small slim bride – see the next section if you are one of them!) and looks great on a bride who has a pear shaped figure.  This style of dress has the advantage of hiding the bottom half of the figure if you are concerned about your thighs and/or rear and emphasises the waist dramatically.
This stunning wedding dress to the left is in typical ball gown style, made out of ivory taffeta with a fitted bodice and corset back and full netting under the skirts.  The gorgeous silver embellishment breaks up the ivory colour perfectly on the front and the embellishment on the back around the corset adds interest for those nice over the shoulder photographs.
A-line wedding dresses
An A-line dress is similar to the ball gown dress but is a little less full in the skirt.  It falls naturally from the waist, again to emphasise the tiniest part of your body and falls in an "A" shape.  If you are a small and slim bride a ball gown wedding dress may swamp you a little too much and an A-line wedding dress will probably suit you better.  These dresses are great if you are petite but you still want to get that full fairy tale effect!
This gorgeous A-line wedding dress to the right is perfect for the bride who wants a more subtle fairy tale wedding.  The vintage style lace feature at the back demands to be shown off, so an up-do hairstyle with this dress is a must!
Mermaid wedding dresses
These dresses are also known as fishtail wedding dresses and trumpet dresses.  The fishtail dress typically has a figure hugging fitted bodice that goes right the way down to the mid-thigh and then flares out to give a kind of mermaid tail shape.  These dresses look great on brides who have an hourglass figure and who are well balanced at the bust and the hips and who have a proportionately smaller waist.  These dresses tend to fit very closely to the body and will give a true silhouette of your body shape, so if you are under confident with your shape, it's probably best to stay away from this style.
This elegant mermaid wedding dress has a gorgeous feature bow at the front and darling little buttons down the back.  It's figure flattering rouching will ensure that you feel confident on your big day and will really show off your curves.  This mermaid wedding dress is now in our sale for under £300!
Empire line wedding dresses
These wedding dresses a have a high waistline with the skirt starting from under the bust.  They tend to be made out of a light, floaty fabric such as chiffon which falls very elegantly to the floor.  This style of wedding dress looks great on most body shapes and is probably one of the most forgiving wedding dress shapes.  They are fabulous if you are concerned about showing off your mid-section, providing you with a bit of extra coverage, and still giving you the ability to achieve that whimsical, elegant look.  Empire line dresses make stunning maternity wedding dresses and they give that little bit of extra space around the waist if baby decides to grow dramatically in the run up to the wedding.  These dresses have also been extremely popular at the boutique for a casual wedding or look gorgeous on a beach if you are having a tropical beach wedding.  They also have the benefit of being floaty and light so you can keep cool and pack them in your suitcase easily.
This whimsical champagne coloured wedding dress pictured right is absolutely stunning and extremely flattering, even if you have some bits you wish to hide!  The gorgeous lace bust has a few sparkles, so you will be able to twinkle and shine well into the night!
Column or sheath wedding dresses
These dresses are also known as sheath wedding dresses.  This style of wedding dress runs virtually straight down from the shoulders to the floor with no flair and are typically narrow and slim.  These are easy to wear and are great dresses if you are having a less formal wedding.  These dresses look great on most shapes and also look fabulous on small brides because the shape tends to elongate a small bride perfectly.
The beauty of this column wedding dress pictured left lies in it's simplicity and a really beautiful cut.  The figure flattering rouching is perfect if you are concerned about your mid-section, and the feature frill partially obscures the side slit so you can add a touch of sexiness to your wedding dress whilst still remaining a classy bride!
When you are trying on wedding dresses make sure you don't put the blinkers on and disregard all other styles other than the one you are determined to have, the trick is to try on many different shapes of dresses and to bring your friends and relatives with you and sit down and explain to them what kind of look you are going for at your wedding.  When selecting which friends to bring with you remember that it is of absolutely no help if you bring a friend who is going to say that every dress looks wonderful on you!  Instead, bring a friend who is going to give you a really honest opinion, and try not to take it too personally if there is a dress they do not like on you.  After all, if they are a true friend, they are only trying to help you look fabulous on your big day!
Whichever style of dress you go for, just make sure that you love it and feel comfortable and confident in it.  Remember that you will show your wedding photographs to all your family and friends and any potential grandchildren you may have in the future, so make the right choice for yourself so you can feel proud every time you look at the photos of wedding day.
I am very rarely wearing any other colour but red, and so I am always thrilled when our prom girls come to the boutique seeking red dresses for their special night.  On prom night you will want to make a lasting impression, and red is definitely a colour no one will miss!  Red is a great colour if you want to look commanding, confident and absolutely stunning.  It is also a very versatile colour in the sense that it compliments a wide range of skin tones.  It goes without saying that red looks great with dark hair and dark eyes and can make you look really exotic a la Penelope Cruz.  However, we have had some mums at the boutique with their blond daughters who want a red prom dress and they are concerned that their daughters may look 'tarty' in red.  Well, I would argue that you only have to look at the stunningly sophisticated Jerry Hall in red to realise that this is definitely NOT the case.
Make up to go with a red dress
In all honesty, red is not the easiest of colours to match your make up to.  My own particular favourite tricks for a real bombshell look are to choose a lipstick with matches the shade of the dress and to have a nice black flick out with a liquid eye liner on the top eyelids and some black eye liner on the inner rims of the bottom of your eyelids.  A light shimmery eye shadow will make the dark eye liner stand out more, thus making your eyes look more defined.  Finish up this look with a thickening black mascara for dramatic and defined lashes.
If you don't like to wear too much make up, you can go for a more natural look by putting a slight rose colour on your cheeks and use a natural, shimmer lipstick in a nude colour and a little soft eye liner at the outer corners of your eyelids.  I find that this looks fabulous on fair girls.
How to wear your hair with a red prom dress
With a red prom dress you really want to let the red colour do the talking, so go for a simple hairstyle to avoid looking too over the top.  Try an up-do with a few trails of hair framing your face or some carefree loose waves if you want to have your hair down.  Having your hair trailing down one shoulder is also a great look, especially if you are wearing a dress with a feature back.
Accessories to go with a red dress
If you are going for a red dress keep away from red accessories as this can lead to the accessories blending in with the dress too much and it can be a bit too much.  If there is some sparkle on your dress, match the accessory colour to the embellishments as they will make the beading stand out.  Gold accessories look great with red if you want a regal look and silver looks fabulous if you want a young, fun yet mature look.