Fashion focus for Winter 2014 – The Coat Cape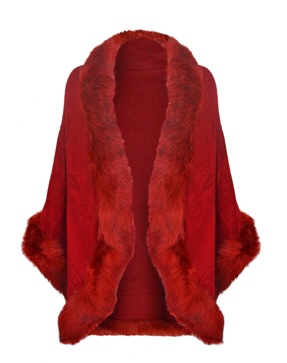 Although we never like to put a dampener on things, I think you will admit that after a glorious few weeks of sunshine the weather has now taken a turn and it is now rather cold.  So as we do away with our floaty summer dresses, we get busy pulling on our jumpers, snuggling up into our winter wear and enjoy a good mug of tomato soup on the sofa.  Bliss!  This change in weather obviously means that we will have to reassess our wardrobes and find the most glamorous way to keep warm this winter.  Don't worry, there is definitely one way of staying glam whilst keeping the chill off this winter which does not involve a cumbersome overcoat, and it comes in the form of the cape coat.
Capes are no longer purely reserved for Little Red Riding Hood and that lovely lady from Scottish Widows, they have in fact become a winter staple for 2014 and have been spotted all over this season's runways, it's only a matter of time for them to trickle down onto the high street!  As well as being this season's coolest way of covering up, capes are brilliant at transforming a casual outfit into a cool, feminine and glamorous one.  These capes look fabulous with skirts, thick tights, knee high boots, skinny jeans, heels for the evening etc.  In short, they look amazing with almost anything!  The best thing about them?  It's got to be the fact that you can just throw them on with stylish ease!